Top 17 Best Duplicate Photo Removers in 2023
Updated: October 17, 2023 Author: Emil Fatekhov
It's almost impossible to avoid the appearance of duplicate photos over time. However, these files take up space and clutter your computer. Therefore, periodically it becomes necessary to search for and remove duplicate images from your photo archive. Let's take a look at 17 programs for finding duplicates and identify those that can quickly and easily handle this task.
Have you noticed that your hard drive has run out of space and can't figure out the reason? Perhaps the whole point is the appearance of a huge number of duplicates, which is almost impossible to avoid at the present time. They take up a lot of space and clutter up your computer. If you are reading this article, then you are clearly looking for a way to deal with this problem. Don't worry, we will try to help you. We will look at 17 different programs, the purpose of which is to find duplicate files on the computer. We will identify those that are more effective and better in comparison with each other.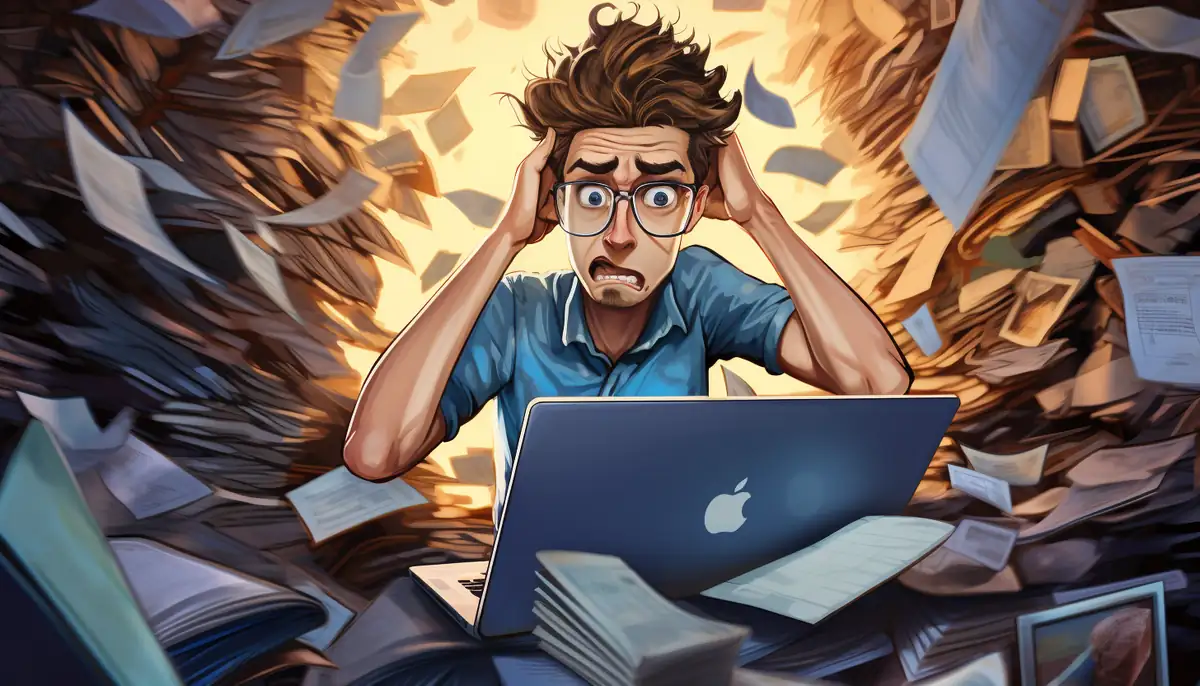 Criteria for selecting the best program for finding duplicate photos
Imagine this situation: your hard drive is full and you decided to try to delete duplicate photos manually. What do you need for this:
look through all folders;
identify similar photos;
compare them with each other;
delete the unnecessary ones.
Okay, if you only have a few folders with no more than ten photos each. But what if you have many folders, and inside each of them, there are nested folders with dozens or hundreds of photos? A person is not a robot with an embedded program, and cannot easily handle such a task.
We need an effective tool that can find all duplicate images, including those that were automatically created on the computer by renaming or changed in the process of some work.
We need to find everything that accumulates on disks and other file storage over time. This clutters the archive, making its structure chaotic and difficult to manage.
To organize a photo archive manually, it would take hundreds of hours of work. Using a special program that can find clutter and help organize a personal archive, however, takes just a few minutes (and even seconds).
This review includes 17 programs that can help solve the problem of finding and removing duplicate photos:
Tonfotos;
Visual Similarity Duplicate Image Finder
Awesome Duplicate Photo Finder
Duplicate Photos Fixer Pro
Quick Photo Finder
Image Comparer
Duplicate Cleaner
Duplicate File Finder
VisiPics
Duplicate Image Remover (Free)
Remo Duplicate Photos Remover
Duplicate Cleaner
Clone Spy
Duplicate Photo Cleaner
PictureEcho
XnViewMP
Wise Duplicate Finder
Of course, it is much more convenient when the duplicate removal function is available directly in your photo manager, which is used to catalog your personal archive. However, not all similar programs offer this functionality. This function it is available in Tonfotos and XnViewMP.
To test the programs, we used a user photo archive with a volume of 70 gigabytes, containing photos and video materials.
The rating of the programs was based on the following criteria:
Search quality - the methods of operation (visual search, search by name, search within subfolders) and the results of the search.
Interface and usability - ease of use for beginners, as well as program design.
Accessibility - the cost of the program, the intrusiveness of advertising (in the case of subscriptions or donation systems).
Speed of operation.
Auto-deletion of duplicates - the ability to automatically delete the found duplicates.
Overall impression - a subjective evaluation that answers the question "would I recommend this program to a friend or acquaintance?"
Let's cut to the chase and say that the best results were obtained by:
Tonfotos and Visual Similarity Duplicate Image Finder;
Image Comparer;
Awesome Duplicate Photo Finder.
Duplicate Photos Fixer Pro
Quick Photo Finder
The top two programs in the rating have scored the same number of points. However, these two programs differ significantly from each other. Visual Similarity Duplicate Image Finder — is a program for finding duplicates and similar images using a "classic" approach. Tonfotos — s a photo file viewer that helps organize and systematize photo storage.
In the "classic" approach, the program scans the entire volume of information to find duplicates each time you start it. Such programs are used for a "general cleaning" with the aim of finding and removing unnecessary files.
Tonfotos uses a completely different approach that is aimed help you at regular interactions with your archive. It also scans the selected directories, remembers and finds duplicates, and performs other functions, but does that only once and saves the results in database for future use. Upon subsequent use, it does not need to scan everything again, as there are already ready-made results that it provides to the user. If new files are added or old ones are deleted in the archive, Tonfotos updates and corrects the results. It can be compared to "ongoing cleaning", where everything is already prepared and in place, and all that is needed is to "wipe the dust".
Tonfotos
Although the main function of this application is to manage a photo archive and view photos, it also includes a powerful tool for finding duplicates.
The program guarantees to find only duplicates, by relying not only on file names and dates, but also on the actual file content. The search can be trusted (verified in the study). It is not necessary to visually inspect all matches, although it is possible. The downside is that if a file has been modified or edited in any way, it will not be considered a duplicate.
Tonfotos quickly finds duplicates among the uploaded directory.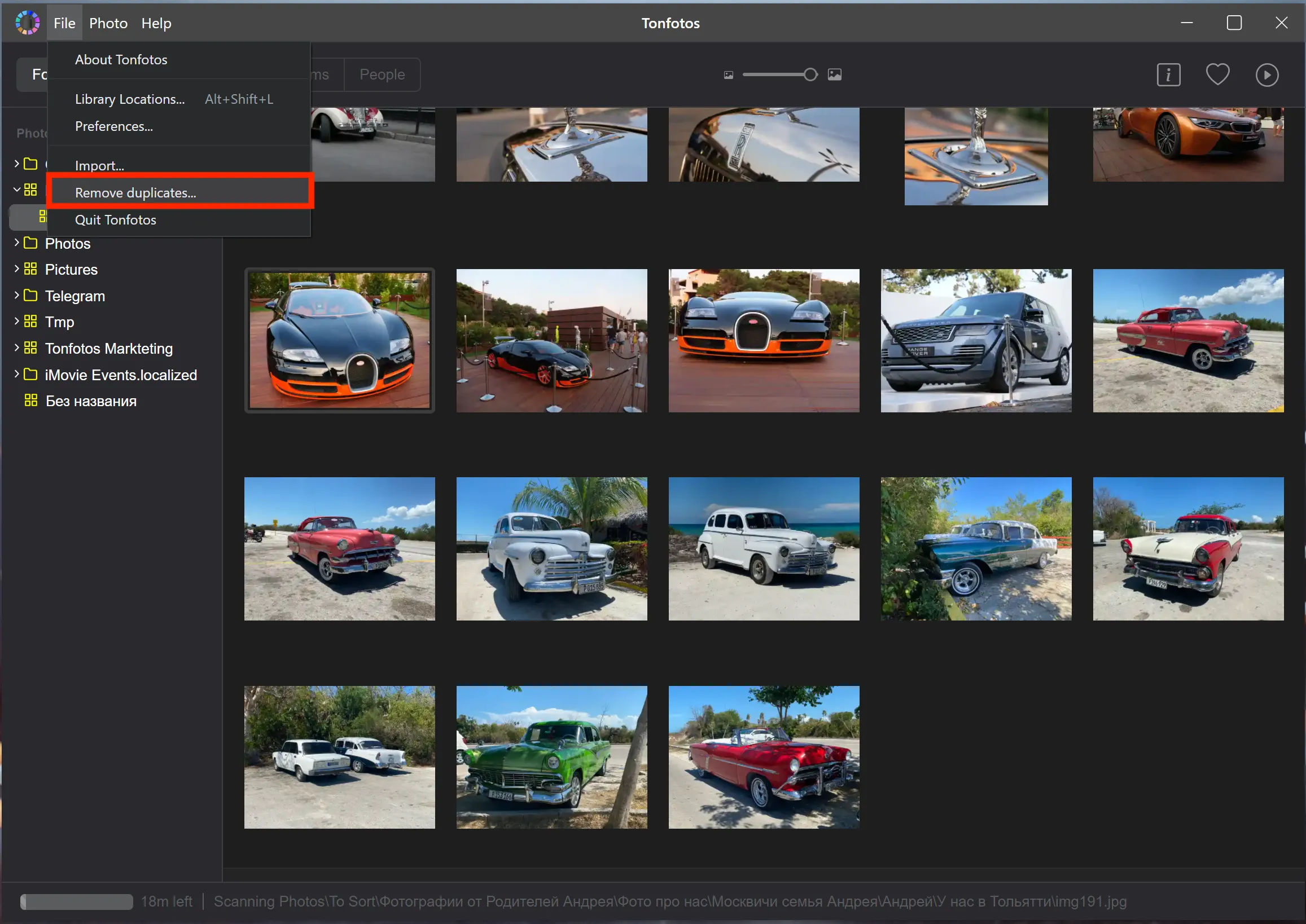 Found photos can be visually evaluated in the created album.
Advantages of the program
The functionality for finding and removing duplicates is included in the free version of the program. Free version is not limited in time (it's not a trial or a demo).
The result is guaranteed. The program marks only 100% duplicates, which eliminates the need to visually inspect all matches
When identical photos are located in different sources, such as on a disk and in a cloud storage, a button appears that allows them to be deleted with one click. This means that the user does not need to browse hundreds of photos, click on "unnecessary" ones, and essentially manually delete duplicates. Everything is simple here. You press the button and after a few seconds it's done.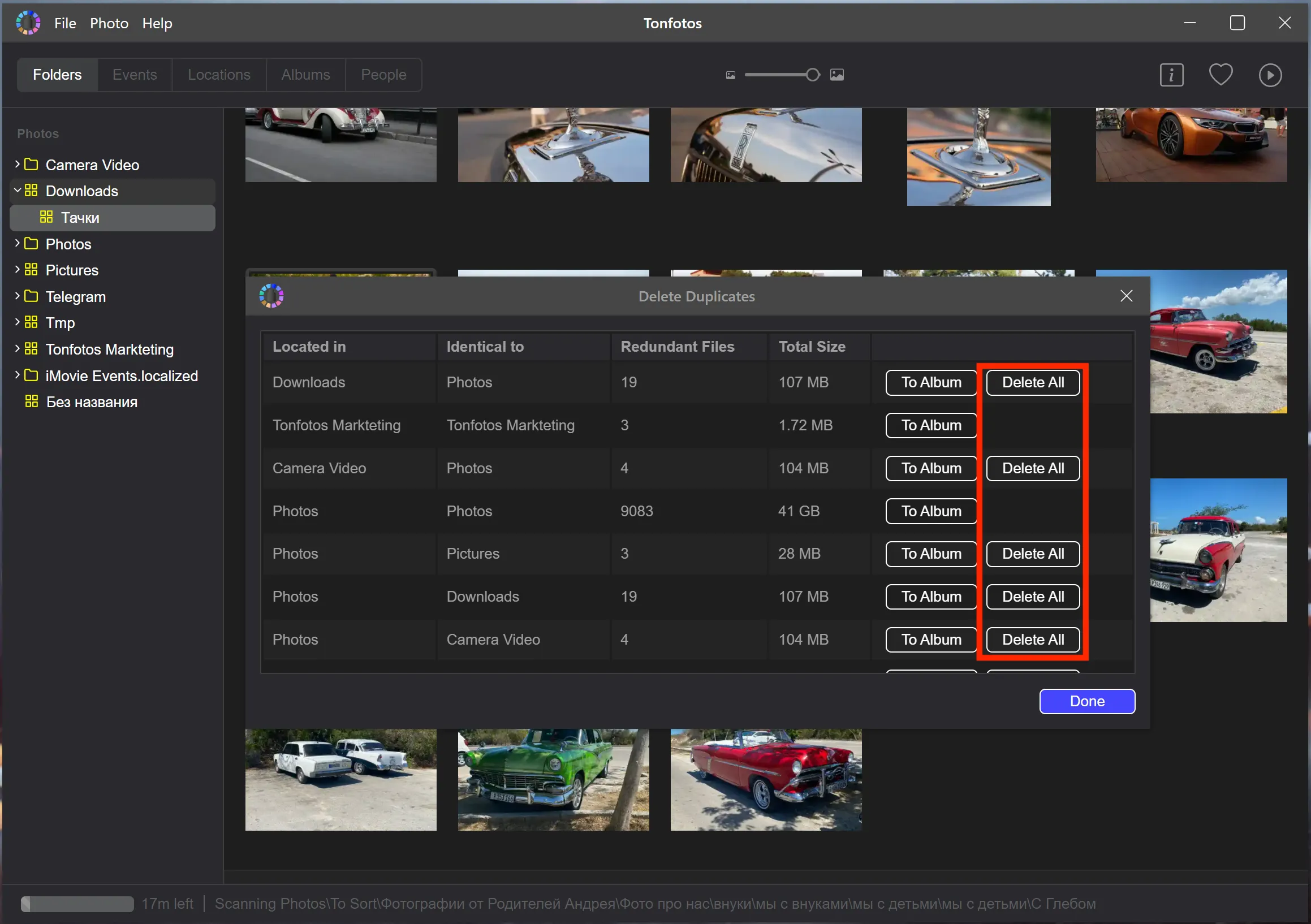 Program features
At the beginning, the program slowly indexes the archive, as it performs several functions in parallel - searching for duplicates, face recognition, and other functions. This leads to a long initial loading of the searched location. It takes quite a while to wait for all files from this storage to be loaded into the system. However, after that, the program quickly finds all duplicates, literally in seconds.
That is, the program works at a high speed in the future. The longest part of the work is waiting for the initial stage to finish.
Visual Similarity Duplicate Image Finder
Visual Similarity Duplicate Image Finder, a specialized program designed solely for working with duplicates, unlike Tonfotos. It has shown itself in a good light and was among the leaders in the rating.
It has a convenient and easy-to-use interface designed according to standards, with classic and adequately sized buttons in logical locations.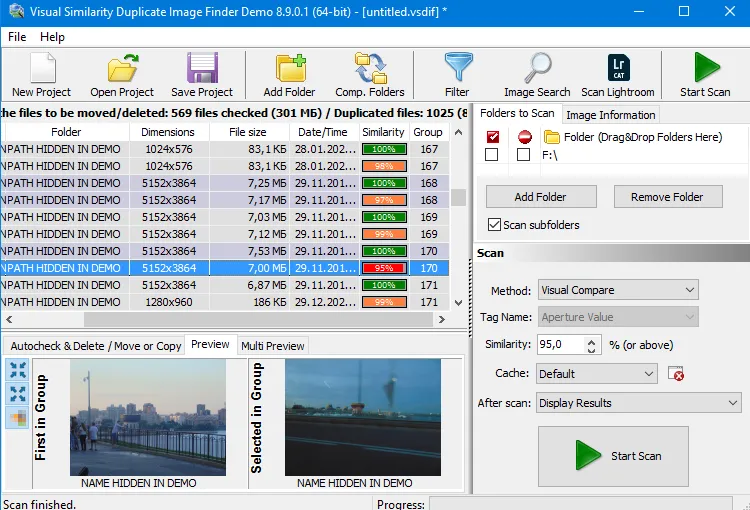 It has 5 methods for finding similar files and their duplicates:
Visual Compare;
100% Identical Files (Fast);
File Size (equal file sizes);
EXIF Date Time Original;
Compare EXIF Tag.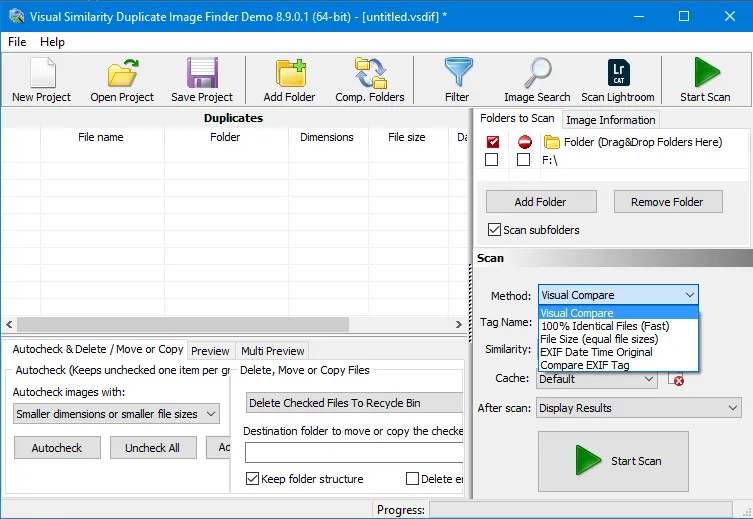 The program works fairly quickly in all search modes, processing a large amount of information.
Overall, it made a good impression, receiving high ratings in all rating parameters - an average of 8-9 points. Although competitors may outperform it in some parameters, they also lose in others.
In addition, many competitors (except Tonfotos) do not have the function of automatic removal of duplicates, while this program has the ability to automate the process of cleaning up image copies.
However, it is not possible to fully evaluate the program's results in the demo version, as there is a limitation on "Only for the first 10 duplicate groups".
Advantages of the program
Convenient interface;
Fast speed;
After the search is complete, the program automatically selects duplicates. If the user does not care which folders they are in, it is enough to select the corresponding item from the context menu. Click on any highlighted line and select the "Delete from Disk" command. If necessary, the automatic selection of the program can be adjusted before deleting duplicates.
Disadvantages
Limited ability to view results in the demo version.
License cost starts from $24,95.
Image Comparer
This is a simple program that is easy to master. The user is gradually offered to complete 5 steps, in which the search area (location) and the degree of similarity between images, as well as other parameters, are specified. The search can be limited to only image copies or also include similar options.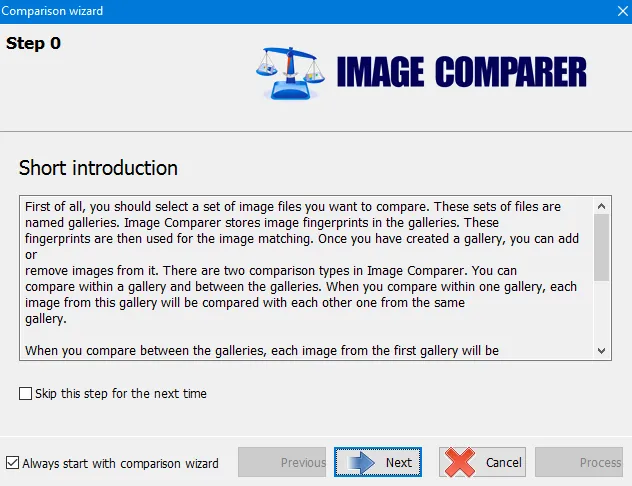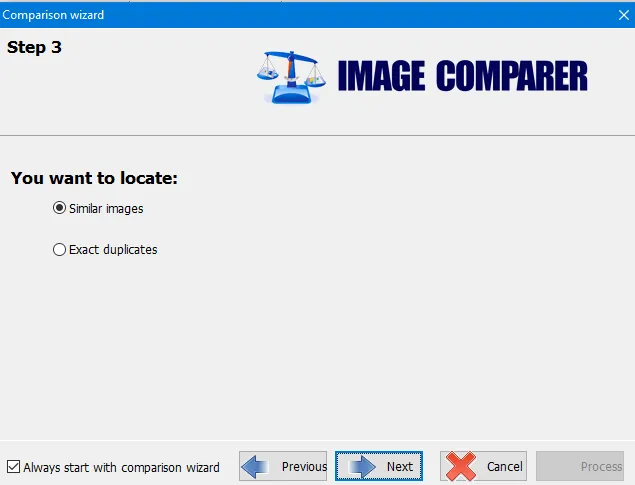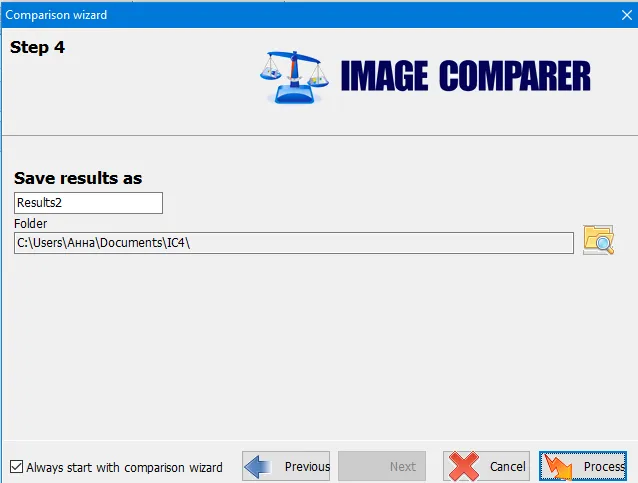 The search is not a fast process, but it cannot be called slow either. Everything was ready in just 15 minutes. The results are more or less as expected. The higher the percentage of similarity, the greater the chance that images are indeed copies. However, in some cases 97% similarity score can be attributed to completely different images.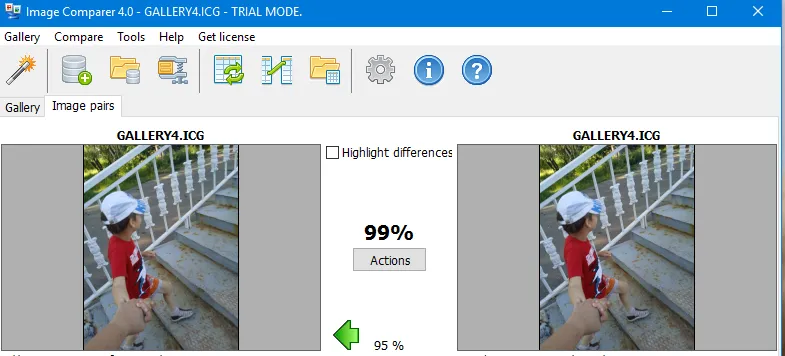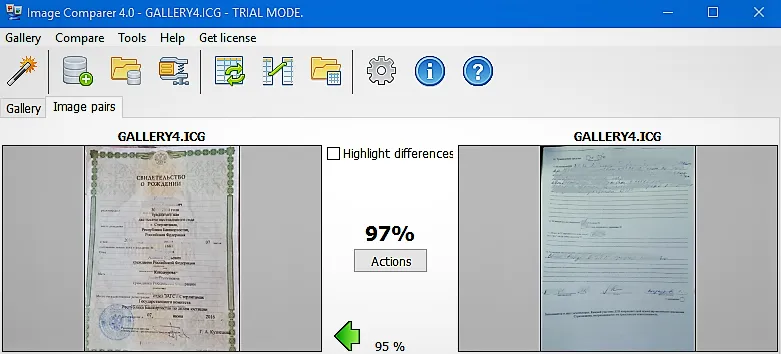 Advantages of the program
The program offers a long period for free testing - 30 days.
The interface is clear and well-designed. The area with photos is not cluttered, and the table with the list of duplicates is arranged in two columns with the original and duplicate photos shown side by side in the second column.
Program drawbacks
The results may include image pairs that are incorrectly detected as duplicates.
Manually selecting the necessary photos for duplicate removal is required. This means that several clicks will have to be made for each copy. Even if a user can make several clicks per second, this is not an ideal solution for quick removal of unwanted photos. And if the number of images with duplicates reaches hundreds, the removal process can be quite laborious
The program has a significant cost - the home license costs $35,95, and the business license costs $99.95.
Awesome Duplicate Photo Finder
This program featuring the "Mona Lisa" is simple and user-friendly. The UI is OK, however may require some time to get used to it.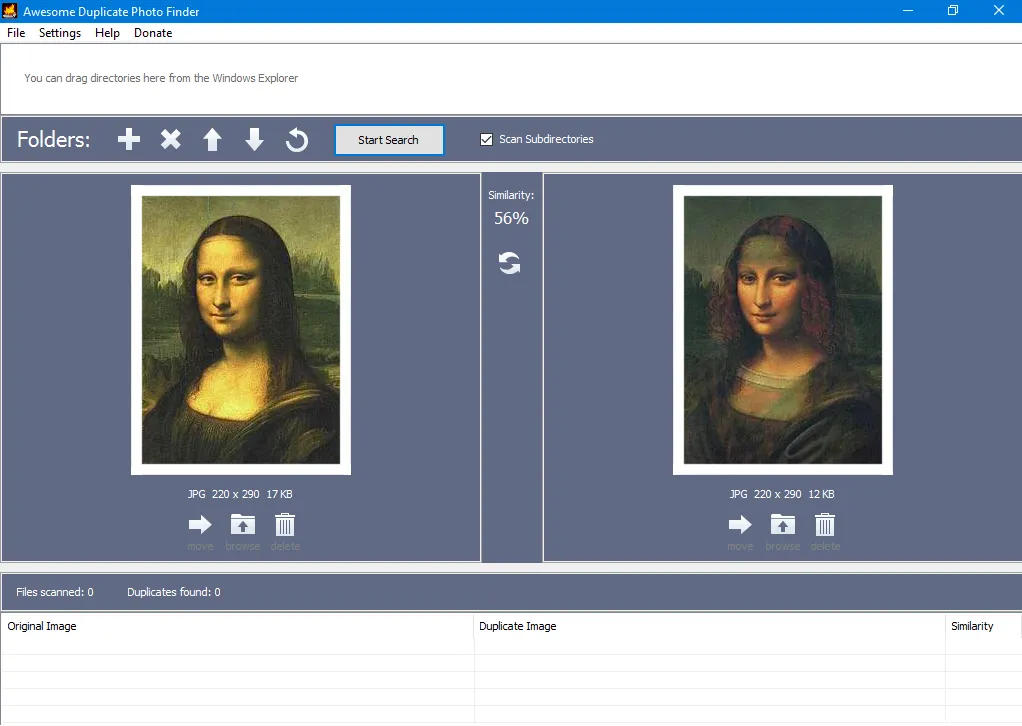 At first, your attention is drawn to the portraits, and after some time you notice the buttons for working with folders located at the top. To add a search area, click on "Folder" and select the location where the program will search for duplicate photos.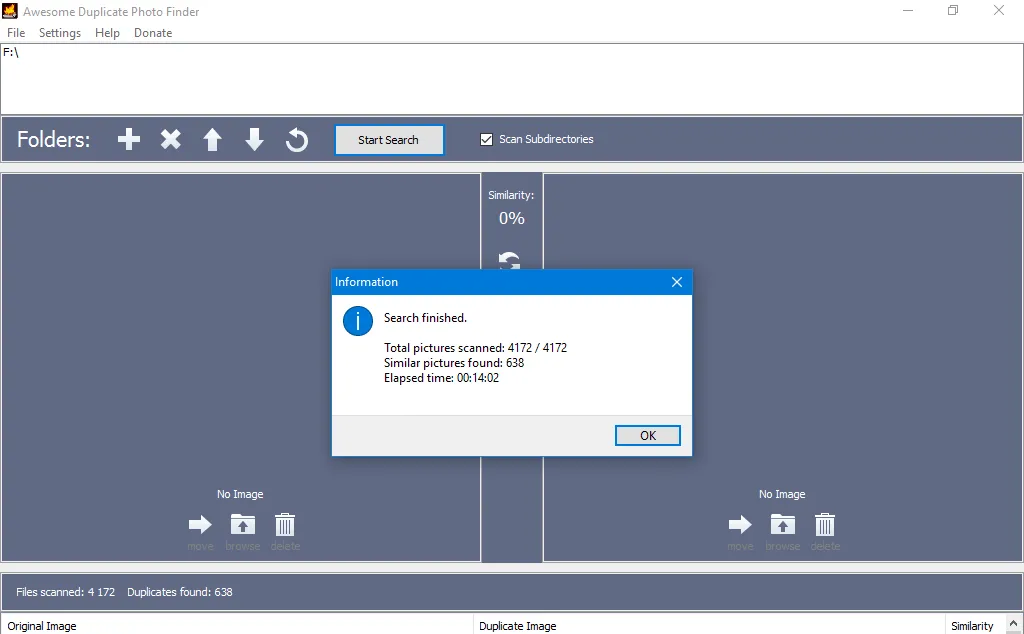 The program quickly processes a large amount of information and provides results in pairs and lists.
The percentage of similarity is also indicated in the list. The higher the percentage, the more likely the program has found a duplicate. However, images with a low similarity percentage may be either different or from a series of similar frames.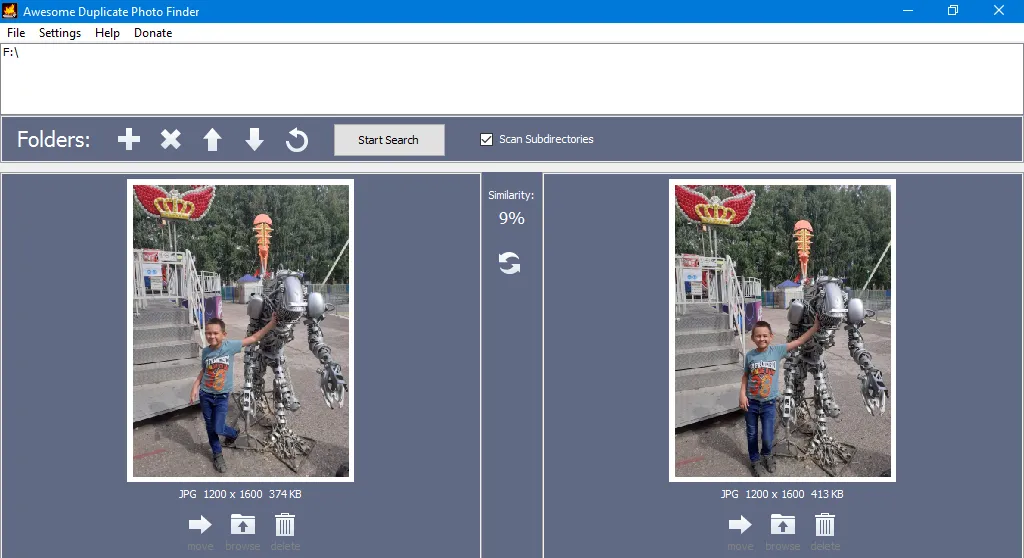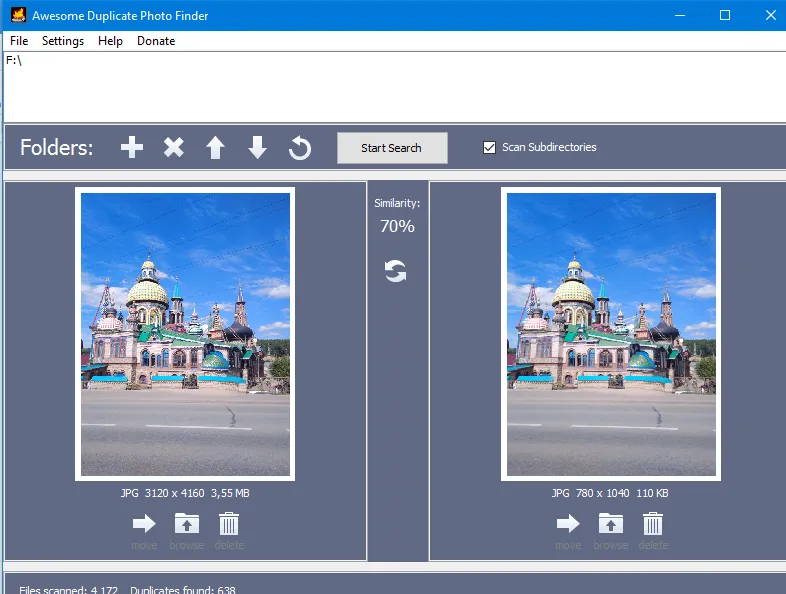 Advantages
Free program;
Excellent for finding similar photos, but not duplicates;
Fast processing of a large number of images.
Disadvantages
During a quick review of the results, several photos with a low similarity percentage (less than 90%) were found, which were duplicates of each other. Therefore, the program's results need to be checked manually.
Requires some time to get used to UI.
Duplicate removal is done manually, one by one.
Duplicate Image Remover (Free)
Classic interface without excess and flashy design makes the toolkit simpler and more understandable. It is recommended to carefully review the program's capabilities before starting work.
Upon launching, the program automatically suggests several "standard" folders for checking. If checking these folders is unnecessary, they should be removed from the list and the required folder added. The more folders there are, the larger the amount of data to process, which may take more time.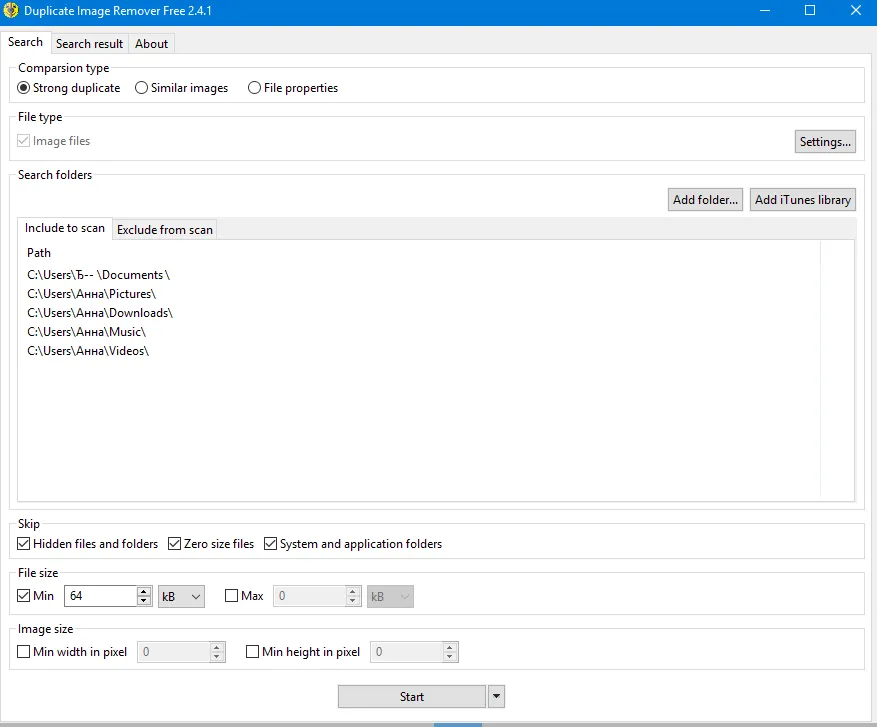 The Duplicate Image Remover (Free) program offers 3 modes for searching for duplicate and similar photos: strict duplicates (Strong duplicate), similar images (similar image), and search by file name and properties (File properties)..
The processing speed depends on the selected search mode. The longest search was found for similar images, which took just over two hours.
The search quality is high, though in some cases, the program may mistakenly pair different images. The results are presented in a summary table, where pairs of photos are highlighted in color (yellowish-beige or white). When selecting a row from the list, a pair of images appears at the bottom.
If only strict duplicates are selected for search, after the program completes its work, there is no need to view the photos, as the search is performed accurately. Knowing that duplicate groups are highlighted in color, you can quickly browse and select duplicate photos to remove them without reviewing each image.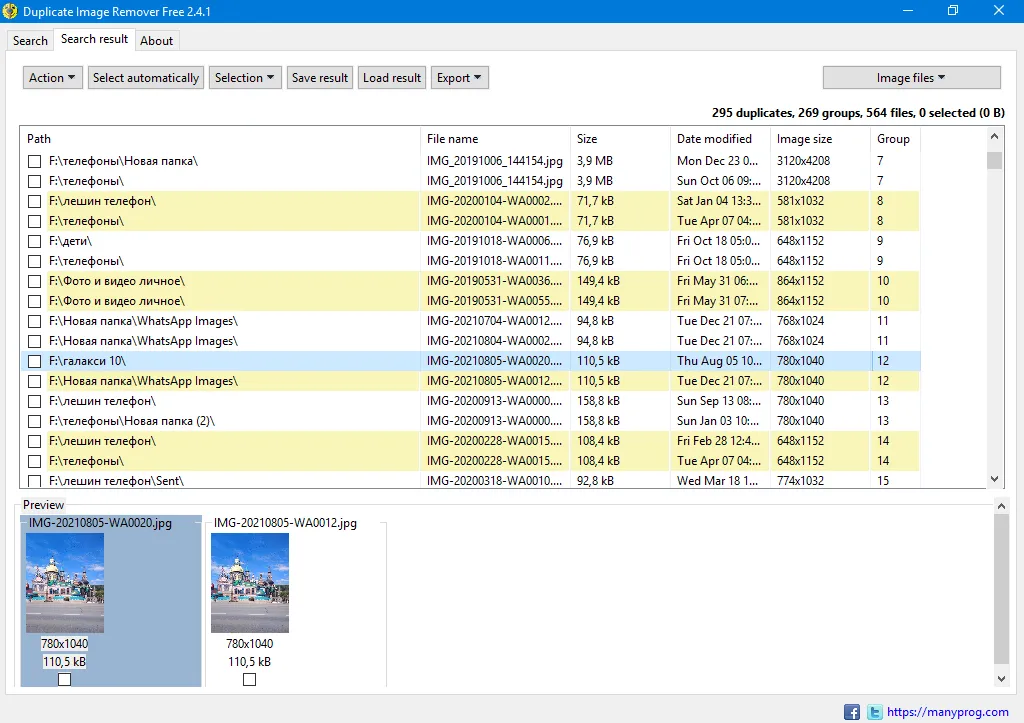 However, processing a large amount of data requires significant time.
Advantages
Possibility of free program testing by downloading the free version.
Three different search filters.
Disadvantages
Low processing speed.
Periodic invitations to visit the manufacturer's website.
The final search results table is too cumbersome, visually comparing images is difficult.
Lack of automatic duplicate selection.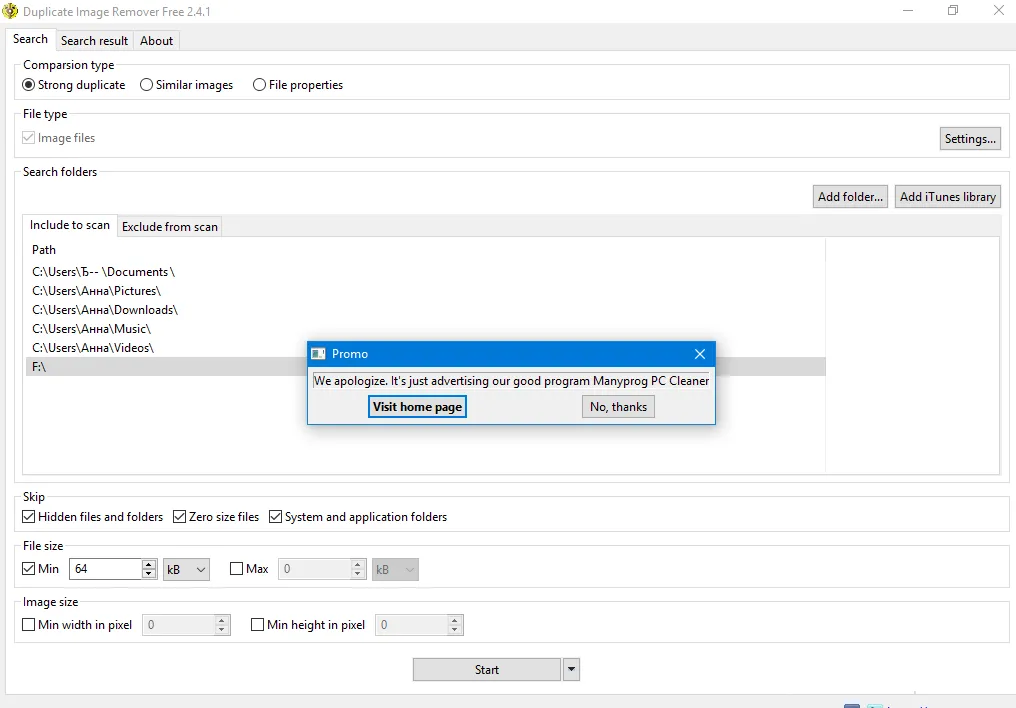 VisiPics
This program also has a classic interface. It is simple, but not without some nuances. Understanding the tools requires some attention and time.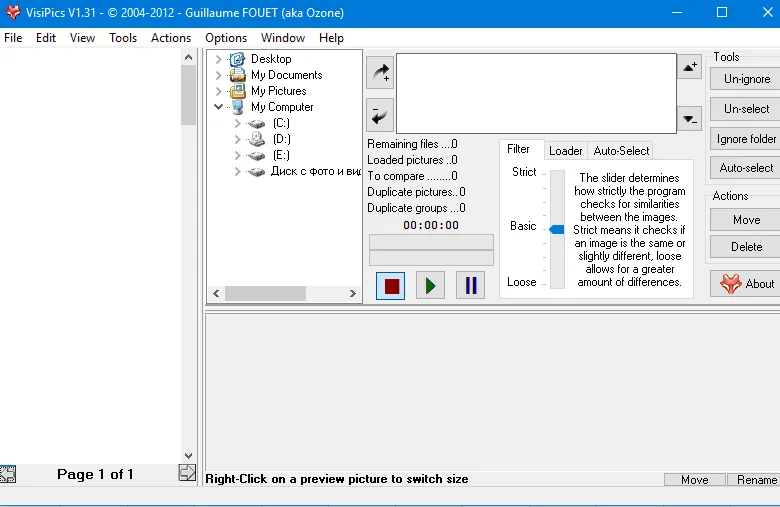 Despite the fact that VisiPics displays thumbnail pairs of images, working with them is not entirely convenient because only one image selected by the user is displayed in the field on the right.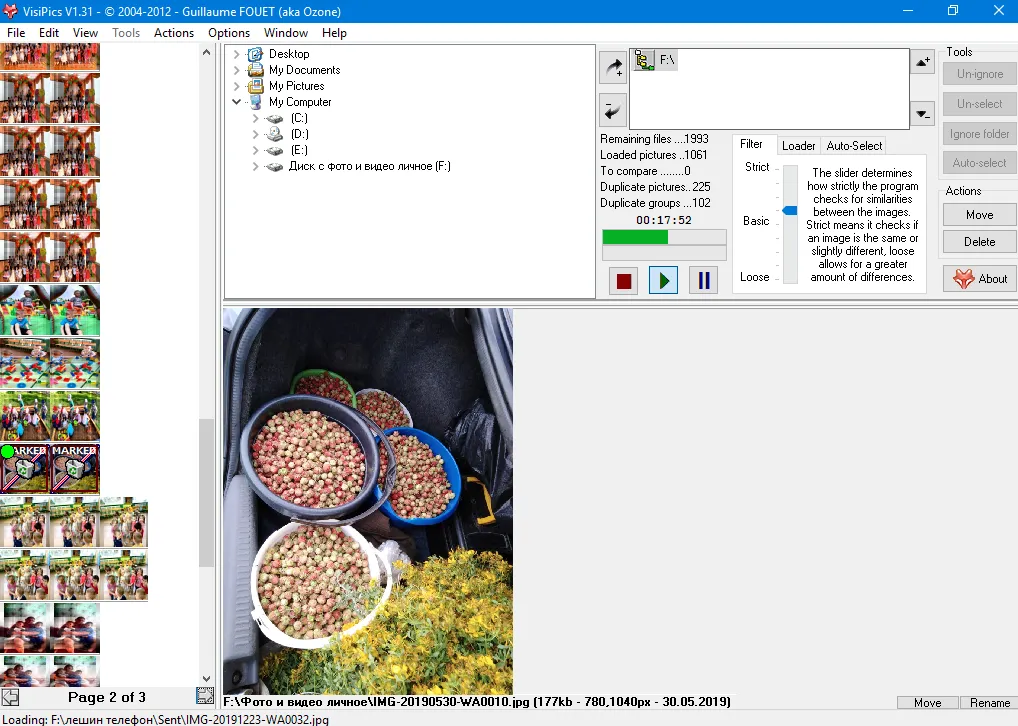 Some of the design decisions in VisiPics can be inconvenient, such as navigating through the search results pages.
However, the search quality in VisiPics is acceptable. During the scanning process, duplicates appear in pairs and can be immediately selected and deleted.
The search filters include Strict, Basic, and Loose. However, when using the Loose filter, there is a chance that different images may be included in the "duplicates".
Advantages
Free version of the program with the option to donate.
Ability to work with duplicates during the search process.
Customizable search filters for finding similar files.
Disadvantages
Some design decisions in the application are inconvenient.
Frequent requests for donations.
Lower speed compared to competitors.
All photos for deletion must be manually marked, which is inconvenient for large volumes of work.
XnViewMP
This application is a file viewer for images with a feature to search for similar photos. However, the program interface is somewhat outdated and cluttered.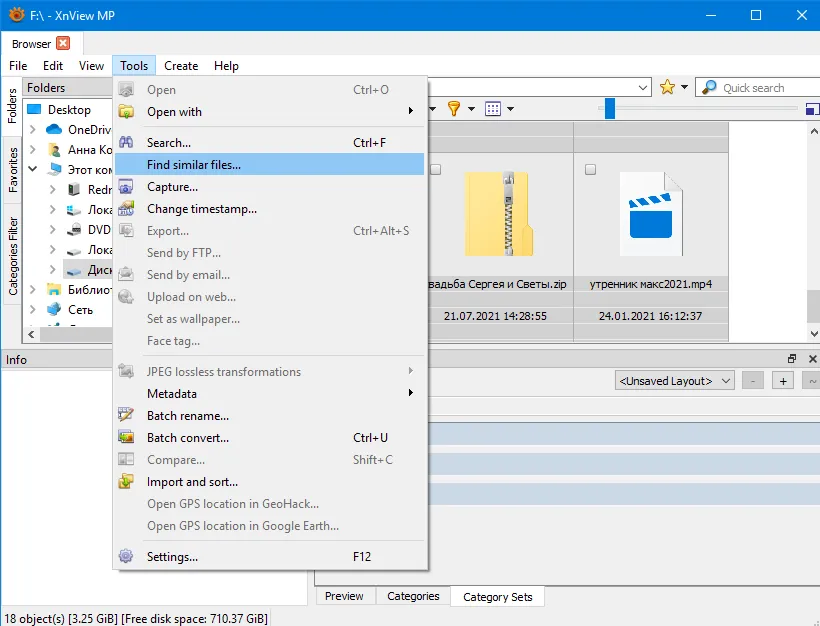 The functionality of XnViewMP looks impressive, with the ability to search for duplicates based on visual components. However, during testing of some operating modes, the application caused computer freezing.
The speed of XnViewMP's operation is average and depends on the selected search mode. In most cases, the search takes from 5 to 15 minutes (excluding cases of freezing). However, when reviewing the results, duplicate images were found that did not correspond to each other.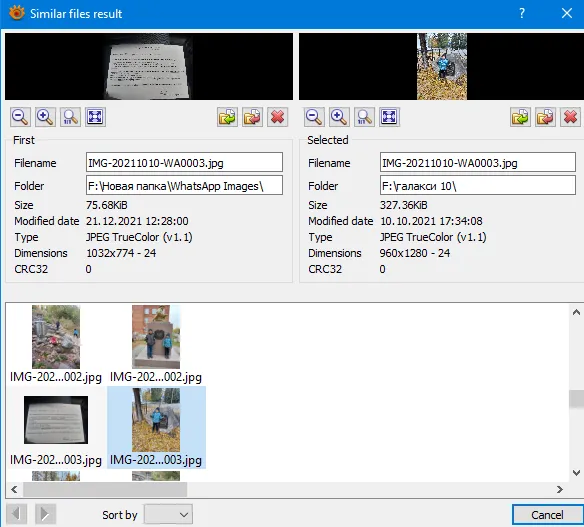 Advantages
XnViewMP is a good photo viewer, but only suitable for working with small amounts of data.
Possibility to search for duplicates based on visual content.
Free software.
Disadvantages
Low data processing speed.
The application may freeze in Same file data mode.
Manual removal of duplicates.
Duplicate Photos Fixer Pro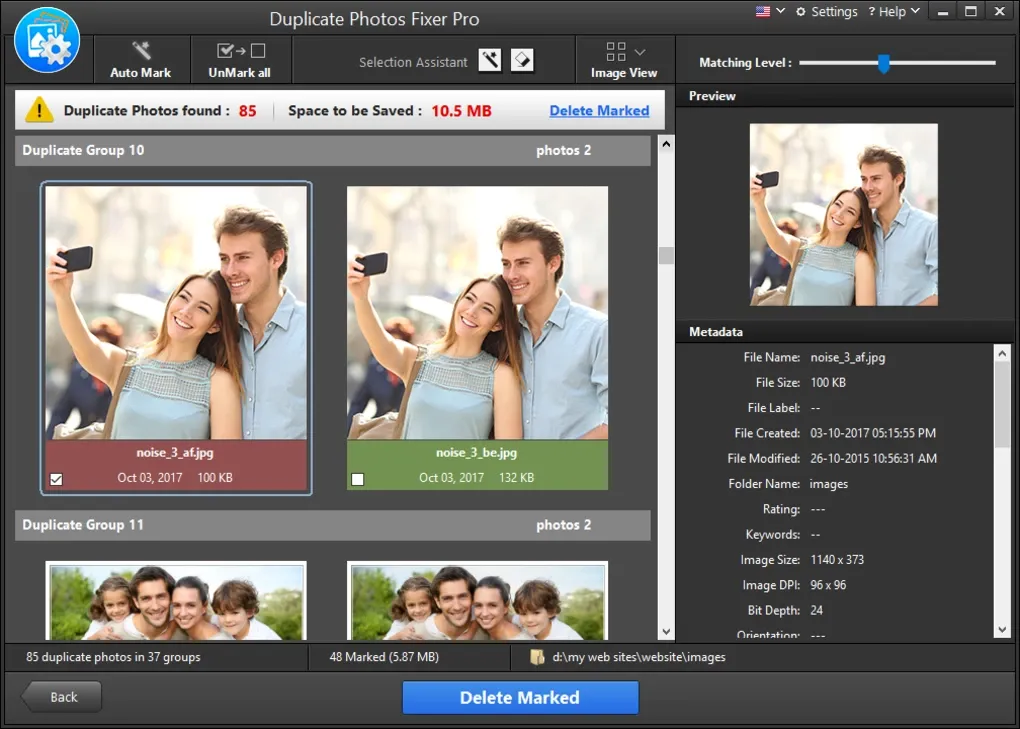 This program doesn't have a huge number of additional functions, besides the main ones, such as searching for and removing duplicates, but don't underestimate it. It has just a huge number of different and useful features related to duplicates, and believe me, they can't be compared to the competitors.
For example, if we don't take speed into account, it is possible to scan photos directly from Google Drive and it does a very high-quality job.
Duplicate Photos Fixer can create a massive search by groups and classify them, and then save the best photos or delete the bad ones. It supports not only finding duplicate photos, but also similar ones, and then you yourself can decide if you need them or not. The application supports the widest range of various file formats, such as JPEG, JPG, GIF, PNG, EXR, HDR, TIFF, BMP, HEIC, CRW, ERF, PEF, DNG, and many others. And we haven't even talked about the fact that it has good filters and criteria for scanning duplicates.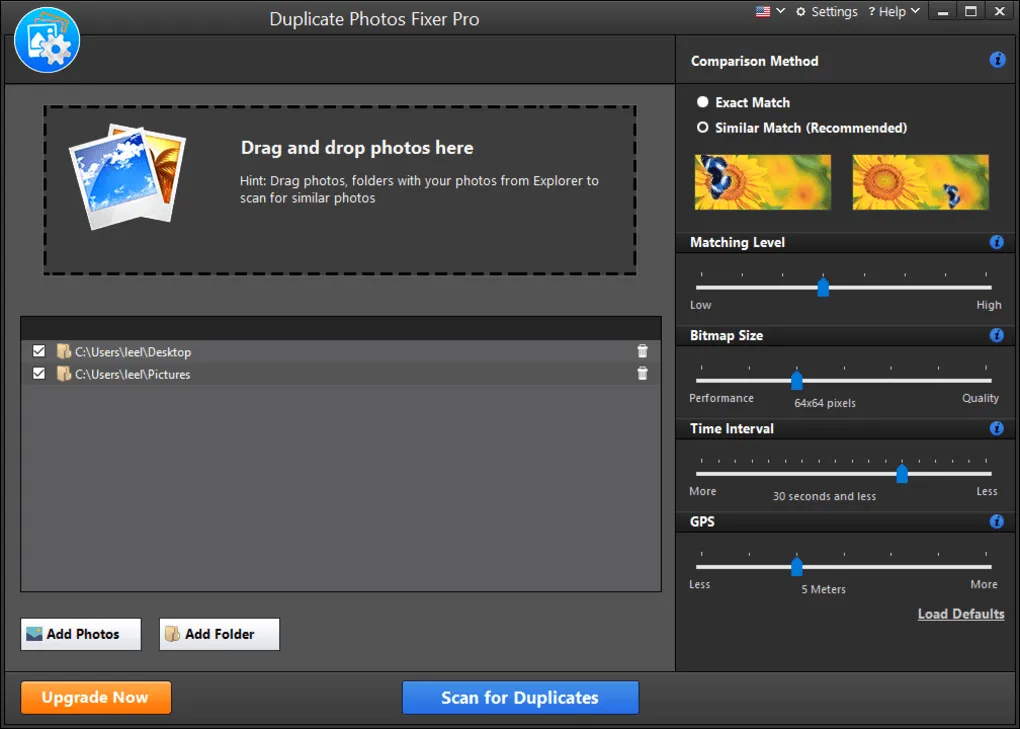 Let's talk in more detail about the advantages and disadvantages of this program.
Advantages of the program
Practical, convenient, and most importantly, intuitive interface
Very fast search for duplicates
Support for a huge number of file formats
Ability to scan photos from the Google Drive cloud storage
The program is also available on mobile devices
If necessary, you can return photos that were deleted.
Disadvantages
Limited functionality in the trial version (ability to delete only 15 duplicates, inaccessibility of some functions, such as cleaning duplicates in one click)
Duplicated images are shown only for the last 24 hours, after which the scan will have to be re-done.
Duplicate Photo Cleaner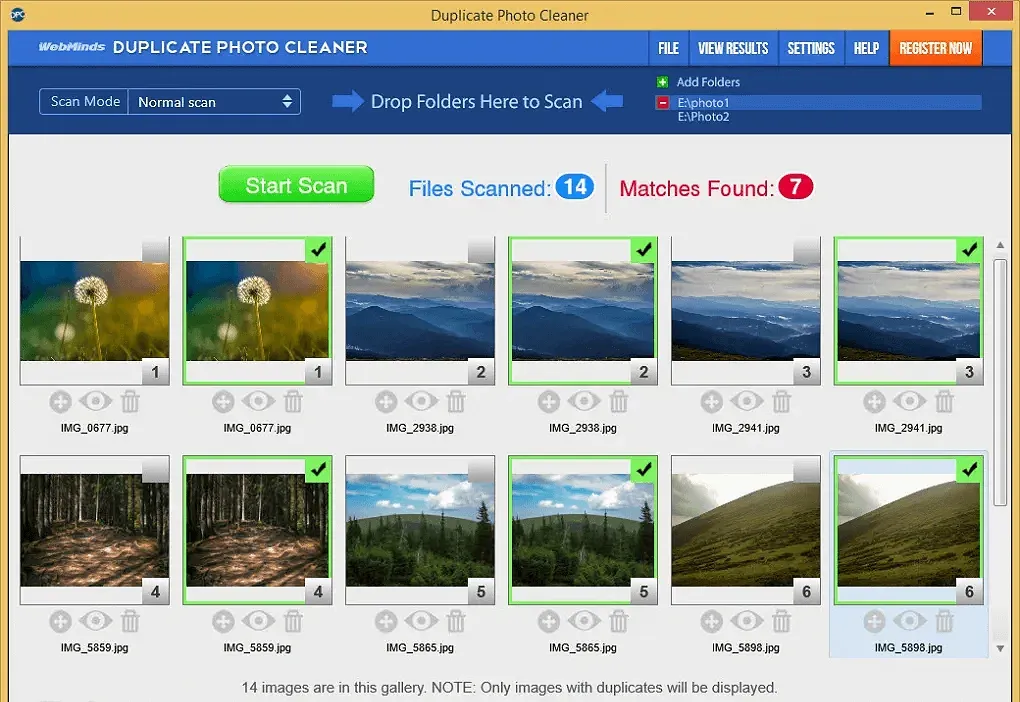 This program is capable of searching for duplicates in just 3 steps. At least, that's what the developers claim.
Let's see what the functionality is here and how it differs from the competition.
At a minimum, there are as many as 9 different scanning modes: standard, detailed (the ability to search for a specific detail in photos, for example, a person), comparing files in two folders, mobile scanning, working with processed photos from Adobe Lightroom, and much more. The functionality is simply huge, because in addition to this, there is a user-friendly interface, the ability to set criteria for scanning and using the program on Mac and mobile devices, support for a large number of files, and much more.
However, not everything is as good as we would like. The program can take a very long time to process photos if you are searching in large catalogs, and almost all the functionality in the program is paid.
Advantages
Easy and intuitive interface
A wide selection of filters and different criteria for finding duplicates
Many modes that contain a different set of functions
Disadvantages
The free version only allows you to view the found duplicate photos. You will have to remove them yourself. Long processing of the search result for a large number of photos.
Long processing of the search result for a large number of photos.
Frequent program freezes.
PictureEcho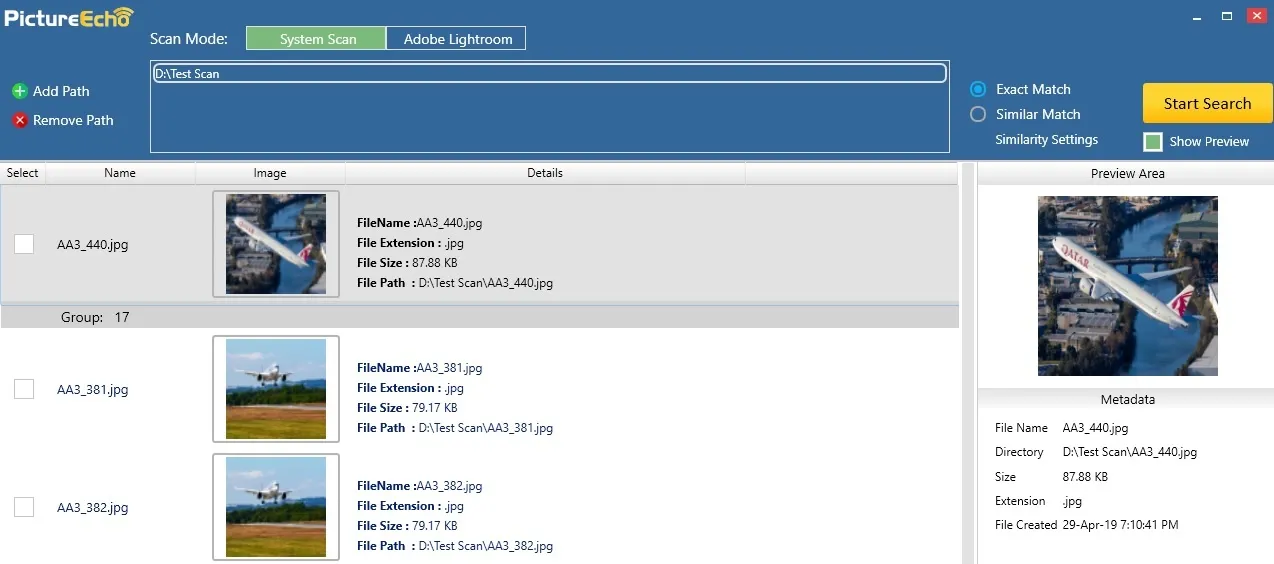 An unusual program that differs from other applications in its method of searching for similar photos.
Picture Echo almost perfectly accurately finds and removes both identical and very similar images, showing the user the results in the form of certain groups with duplicates. Also, before deleting, the program offers a preview of images and more detailed information about duplicate images, respectively, greatly simplifying the process of determining which images are better to save or delete. Naturally, all this is still seasoned with extensive photo search parameters, such as location, size, and file history.
Unfortunately, despite an interesting and individual approach to finding duplicates, the program has a huge number of shortcomings and problems in comparison with competitors. For example, the PictureEcho interface leaves much to be desired; it's very outdated and impractical to use, the low speed of the application when working with a large number of files, but it does them qualitatively.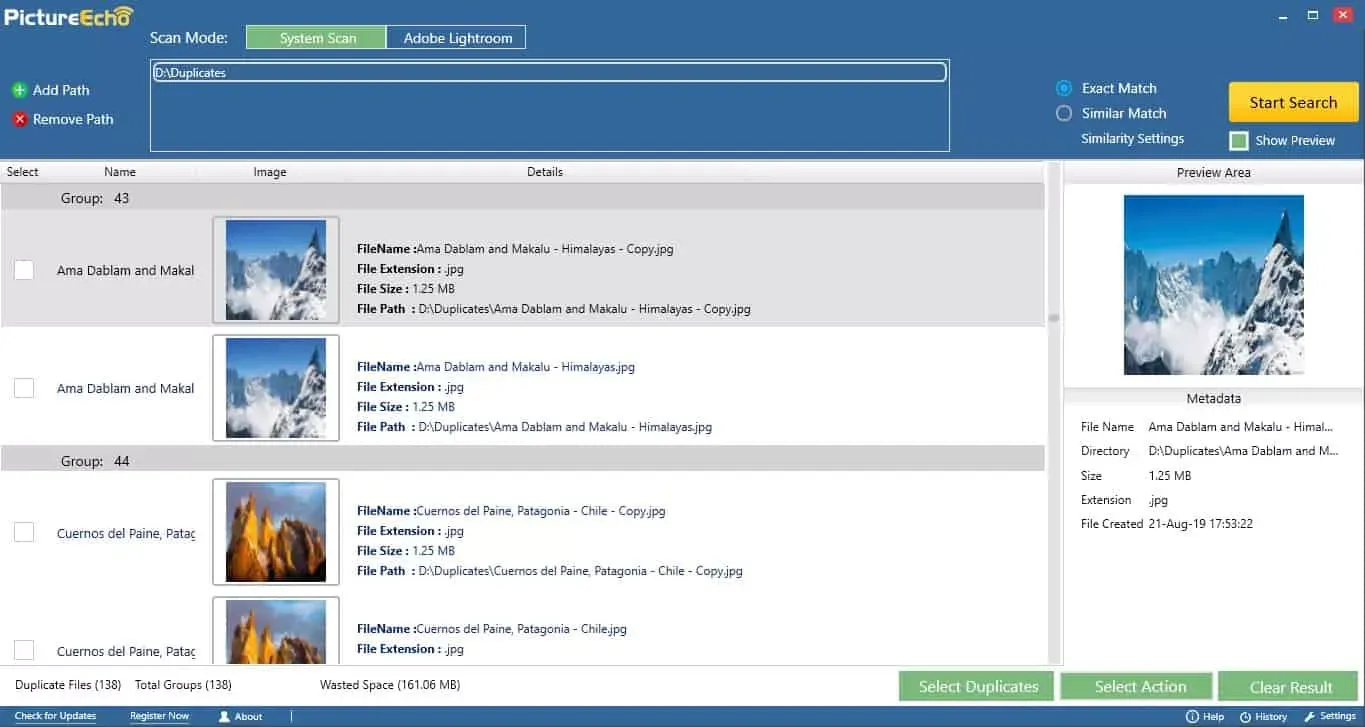 The program is absolutely free to use. You can use it as much as you want.
Advantages
High-quality method of image search
Support for a wide range of file formats
Good range of search criteria and filters
Absolutely free
Disadvantages
Interface design looks very outdated
Low speed when working with large photo catalog
Lack of ability to scan files on an external hard drive
Quick Photo Finder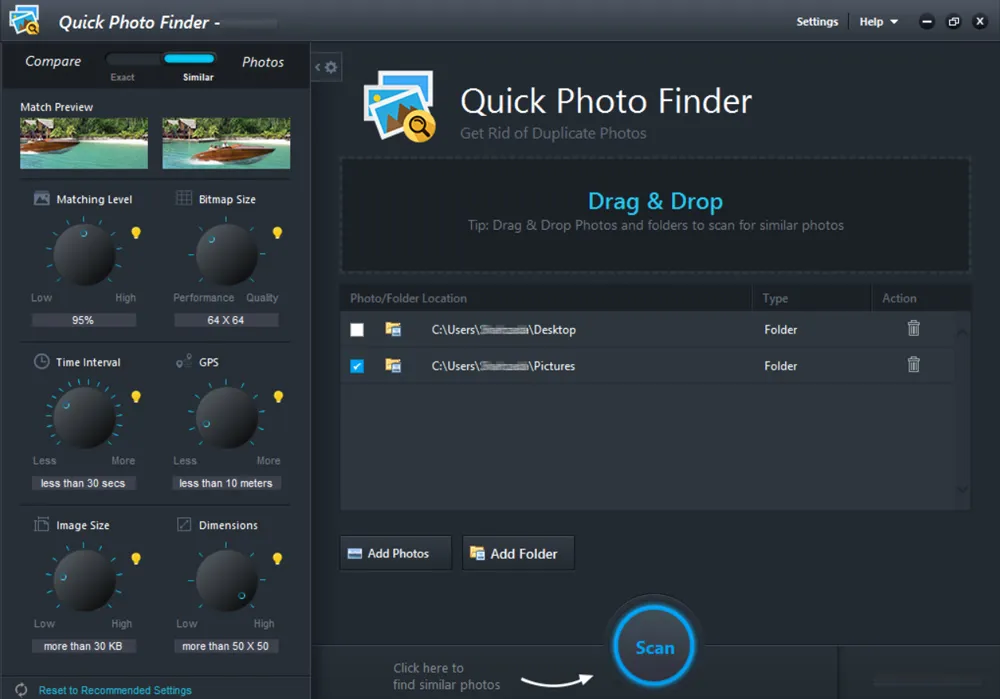 Another program that has its own method of finding duplicates. However, this application has many more advantages than the previous one. The program uses advanced algorithms to find duplicates and similar images on your computer, supports external devices, independently marks duplicate images and gives you the opportunity not only to view them, but also to delete them, the ability to delete all traces of duplicates with one click from your PC, supports many scanning filters, as well as a money-back guarantee if you do not like the program. The application is made in a laconic style with a simple interface.
Advantages
Own method of searching for similar images
Huge functionality
A large number of scanning filters
User-friendly interface
Inexpensive
Disadvantages
Supports only Windows
The free version gives access only to deleting 15 duplicate images
Remo Duplicate Photos Remover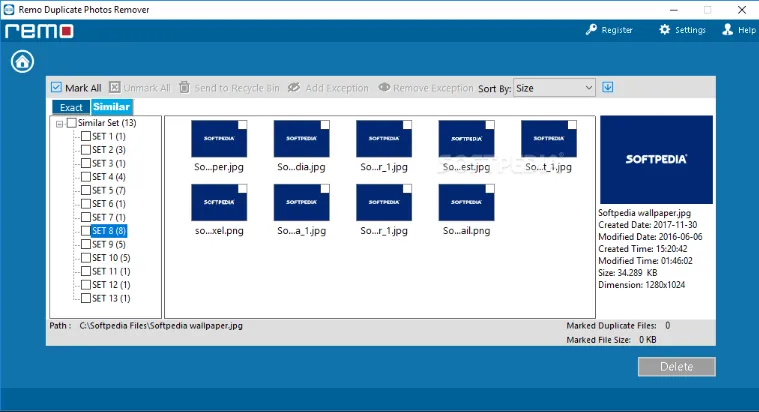 One of the most convenient and simple applications designed to delete similar images, including duplicates. Able to find almost any photo, even if it's taken with another camera or phone. The program supports almost all file formats, filters and sorts for searching images, and most importantly has an incredibly convenient and simple graphical interface that anyone can easily use.
And what is interesting is that Remo Duplicate Photos Remover is available on all platforms, Mac, Windows, iOS and Android. On mobile devices, the program is completely free and has no restrictions on the number of duplicate searches.
However, there is one drawback - this is that the program can often glitch when processing a massive number of photos and simply freezes tightly.
Advantages
Very convenient and easy-to-understand interface design
Support for a huge number of file formats
Many filters for sorting and searching for images
Free use of the program on mobile devices
Disadvantages
Frequent hangs and problems with the application
Difficulties working with a large volume of photos
Wise Duplicate Finder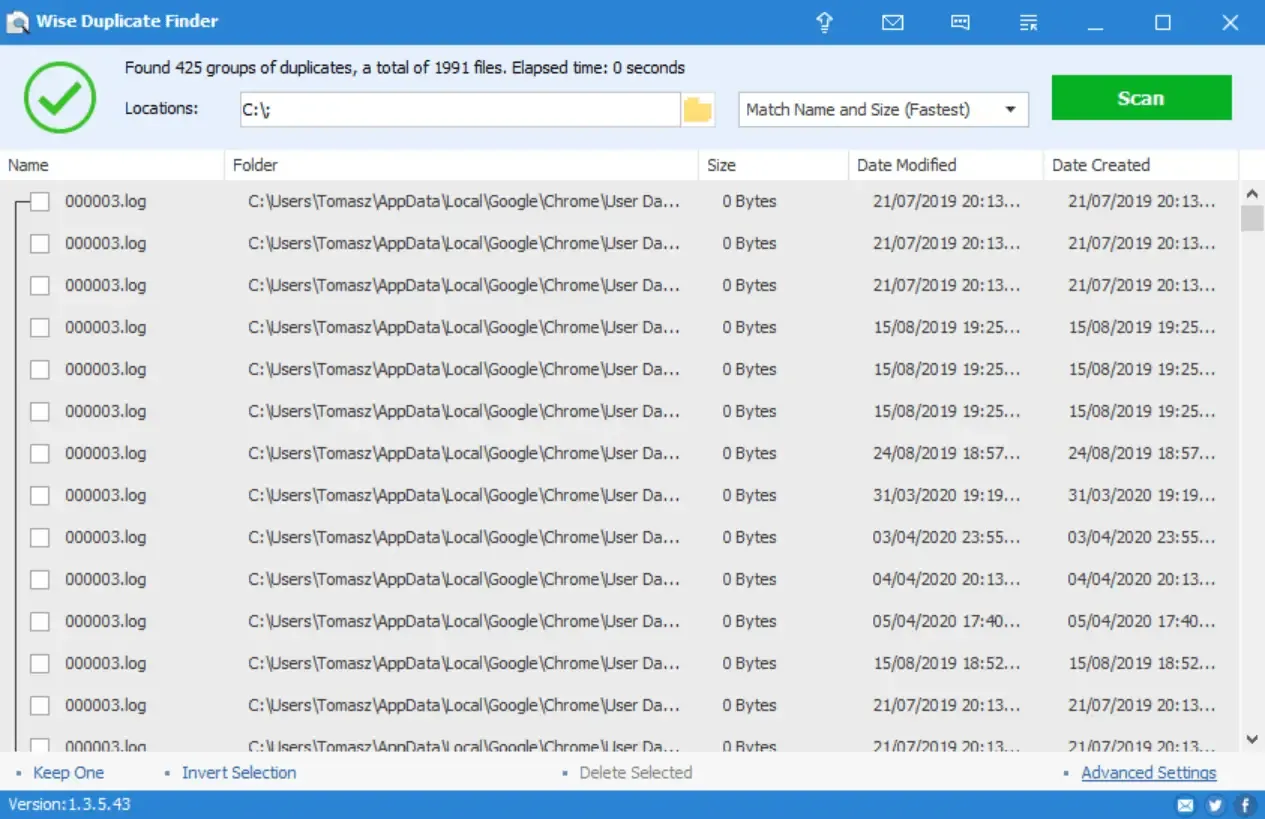 If you are looking for a program that doesn't have intricate design and various unnecessary troubles, and it will simply be able to find and delete identical or similar photos, then this application is just for you.
Wise Duplicate Finder has all the essentials that are needed for this type of program: automatic search for duplicates, ability to view the result, restore the backup copy, if the file was accidentally deleted, and if after cleaning the hard drive you have empty or zero files left, you can delete files with just one click.
Unfortunately, the program does not have an intuitive interface, and the speed of the program can be better, but it perfectly finds similar photos by different criteria, and on the official website you can find a guide on using the application, and technical support that works here 24/7 is always ready to help you. There is also a free trial subscription that allows you to use the application for a short time to test it.
Advantages of program
Good and multifunctional file search
Free trial subscription
Ability to restore accidentally deleted photos
60-day money-back guarantee
You can buy a set of various utilities together at a low cost
Disadvantages
Outdated design
Low program speed
Lack of additional features.
Glary Duplicate Cleaner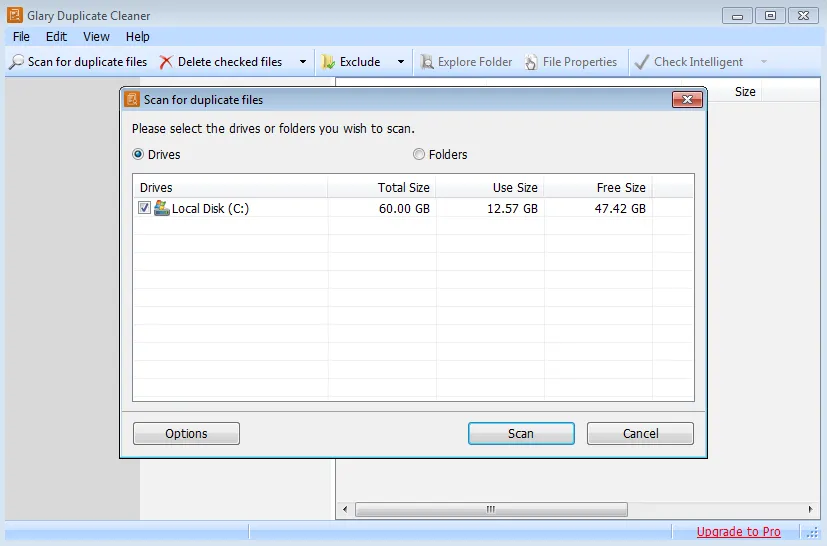 A lightweight, fast, and user-friendly utility designed to detect duplicates and similar photos. The program is capable of automatically sending files, with your permission, directly to the trash. While the interface design is simple, using the program only takes a couple of clicks. The application can find not only images but also identical Word files if they contain identical names. It's also possible to highlight specific files that should not be touched on your computer.
However, while Glary Duplicate Cleaner works quickly and deeply scans the computer to the very depths for multiple instances of the same file, there are times when not all images can be found. Sometimes you have to perform a manual check and review the results again. The same can be said about search criteria; there is simply no extensive list like other applications have.
Advantages
User-friendly and practical interface
Deep file scanning
Speed of action
You can buy a bundle with various utilities at a small cost.
Disadvantages
Due to poor file checking, there are times when you need to check everything manually
Small functionality
Simple program design
Duplicate Cleaner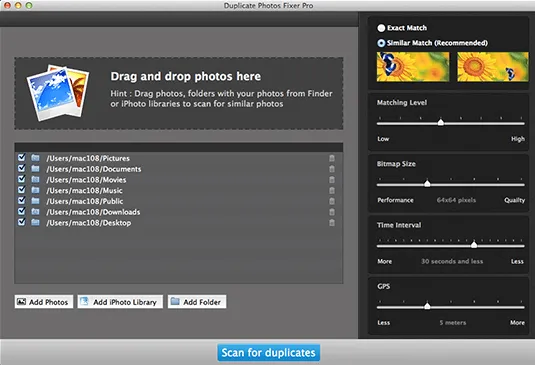 The program has an extensive arsenal, including standard features such as search and deletion of duplicates, as well as the ability to search not only photos but also videos, music, identical and virtual folders, various unique files, and the ability to find duplicates even within zip files.
If you need to mark certain files that need to be deleted, copied or moved, then you can do this easily.
It doesn't just use a regular photo search. You can find similar images evn if they were previously flipped or slightly modified.
But, as usual, not everything is good. There are problems with the speed of the program, and many functions are not available in the free version, which, by the way, can be used for only 7 days and then, try all the features of the utility will not work, you have to buy.
Advantages
Huge functionality of the application
Detection of duplicate files of various types
Advanced photo search by special criteria
User-friendly and simple interface
Disadvantages
Low speed
Useless free version that does'nt include even 90% of various functions, available only for 7 days.
Clone Spy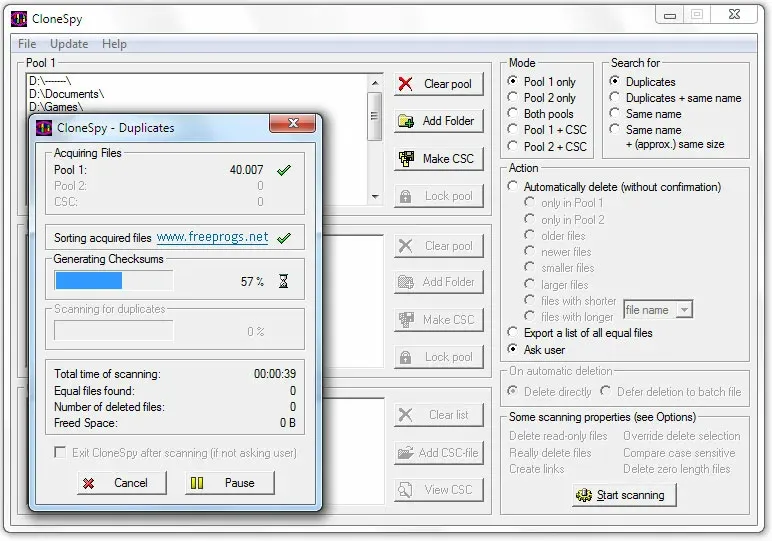 Powerful application that includes a wide variety of file verification options, including size, name verification, creation of checksums and folders, the ability to create a profile or setting that will check for duplicates according to a specific pattern each time you use the program. If you don't want to delete the files, but just take a look to understand how many identical images you have, you can create a report and analyze the work performed by the application
Clone Spy offers you various actions and capabilities after finding duplicates of various files. For example, you can delete or move them to a specific folder, export a list of identical files to a single place, or, for example, replace duplicate files with shortcuts.
The downsides include the outdated design of the program and sometimes a long implementation of the requested actions in the application. But this is compensated by the fact that the utility is completely free, you can donate only if you want.
Advantages
High-quality work
Good set of features
Ability to select the necessary criteria before and after the completion of the program
Absolutely free
Disadvantages
The design of the program looks too outdated and not entirely intuitive to use
Low application performance
Duplicate File Finder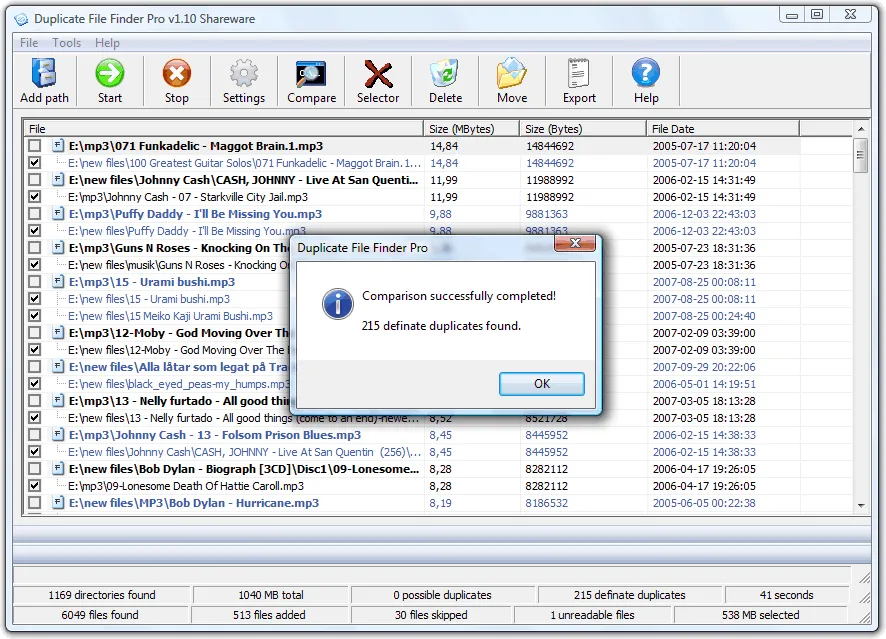 Another program that can surprise users with its functionality. The utility offers, as usual, the most standard and necessary things, such as a convenient search and deletion of an image, but also complements them with various unusual options: search for duplicate video and audio files (a huge number of formats: mp4, 3hg, MP4, 3gp, mpeg, flv, avi, wmv and others), compare folders with different scanning modes, work with cloud services, such as Google Disk and Dropbox, highlight certain folders so that they aren't accidentally deleted, assistant on criteria and filters, allowing you to mark files by groups, dates, disks, etc., and also have the ability to view photos and compare them with each other.
In addition to all this, the application can be used in just three steps, adding the necessary folders for analysis, selecting the found duplicates, and deleting them in one click.
Unfortunately, most of this is not available in the free version.
Advantages
A giant number of functions
The ability to work not only with photos, but also audio and video files
Good set of options for search and analysis of files
Disadvantages
Free version doesn't give more than 95% of functions.
Expensive application. 1 month = 30$
Complex interface, requires time to understand
Conclusion
For people without specific knowledge in the computer field, finding duplicate photos in their personal archive can be a difficult task, especially if the archive is chaotic and lacks a specific structure.
To solve this problem, programs such as Visual Similarity Duplicate Image Finder, Image Comparer, Awesome Duplicate Photo Finder or Tonfotos can be used. Tonfotos is the most optimal solution as it offers a systematic approach that allows not only to clean up the photo archive but also to create a structured organization, which is an integral part of managing a photo archive.
Tonfotos uses a systematic approach that not only cleans up the photo archive but also creates a structured organization. Therefore, this software takes first place in the ranking.
Visual Similarity Duplicate Image Finder takes second place thanks to its well-thought-out solution architecture and good search results..
However, this program might be a bit complicated for some users, unlike Image Comparer, which takes second place. It offers a step-by-step solution to the task.
Awesome Duplicate Photo Finder takes third place. It seems that this program is more focused on finding similar photos rather than duplicates. Therefore, its results need to be visually checked.
However, if you look at the root of the problem, after cleaning up duplicates, chaos will arise again after some time, and you will need a program to search for duplicate photos again. This is a closed circle that can be broken by properly organizing photo storage.
Tonfotos is a program for sorting images and videos. It is a tool that helps to organize files and solve the problem of periodic appearance of duplicates. If necessary, the program can scan newly uploaded files and find photo duplicates in a matter of seconds, offering to delete or move them with just one click.