Top 12 Photo Managers with Face Recognition
Updated: October 24, 2023 Author: Emil Fatekhov
Face recognition is one of the best photo-related functions today, which can not only save you time, but also help you sort and organize your photo archive. In this article we discuss 12 photo management applications with face recognition function.
In today's digital era, we have many photos stored on our devices and in the cloud. It can be difficult to find a specific photo when we need it. Photo manager apps help us organize our photos and make it easy to find them. Some of these apps use artificial intelligence (AI) to recognize faces in photos. This helps us group photos by person.
In this article, we will introduce you to the top 12 photo managers with face recognition. These apps are not just useful for personal photos, but also for companies that need to organize product images, event photos, or marketing visuals.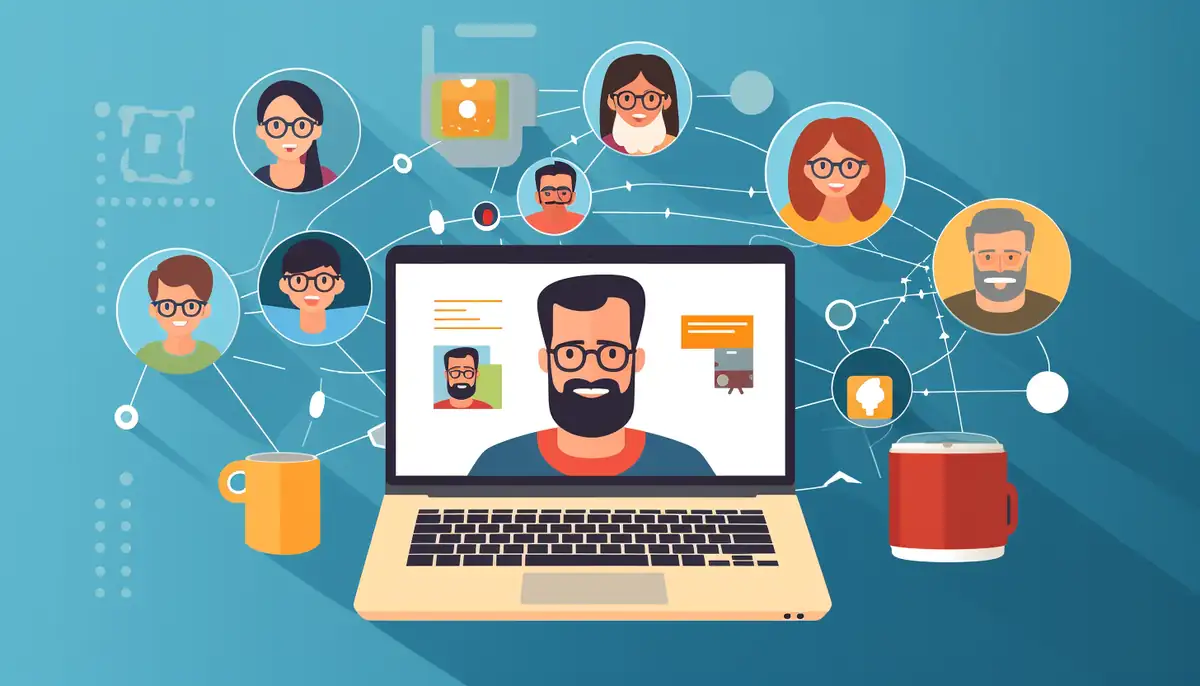 Criteria for selecting the best face recognition software
Here are the main characteristics we used to consider when choosing the best photo manager app with face recognition function:
General assessment of the quality of work.
Interface and usability — the convenience of functionality, the logic of using certain components. It is important if the program is user-friendly and intuitively clear.
Availability — how the program is distributed (paid, subscription, demo mode, etc.). Also, if there is the ability to install the program on a PC with an alternative OS (Mac, Linux and others).
Additional functionality — useful functions that make it easier to work with photos.
General impression.
Tonfotos
Ranking position: №1
$39
Windows, Linux, macOS
The leader of the rating received high marks both in terms of qualitative and visual characteristics. Tonfotos has a simple and intuitive interface, while it copes perfectly with the task of face recognition and sorting.
Since Tonfotos runs AI recognition locally, initial indexing can take some time. At the same time, the program shows how much time is left before the indexing is completely finished, and also allows you to work with those images and faces that have already been indexed.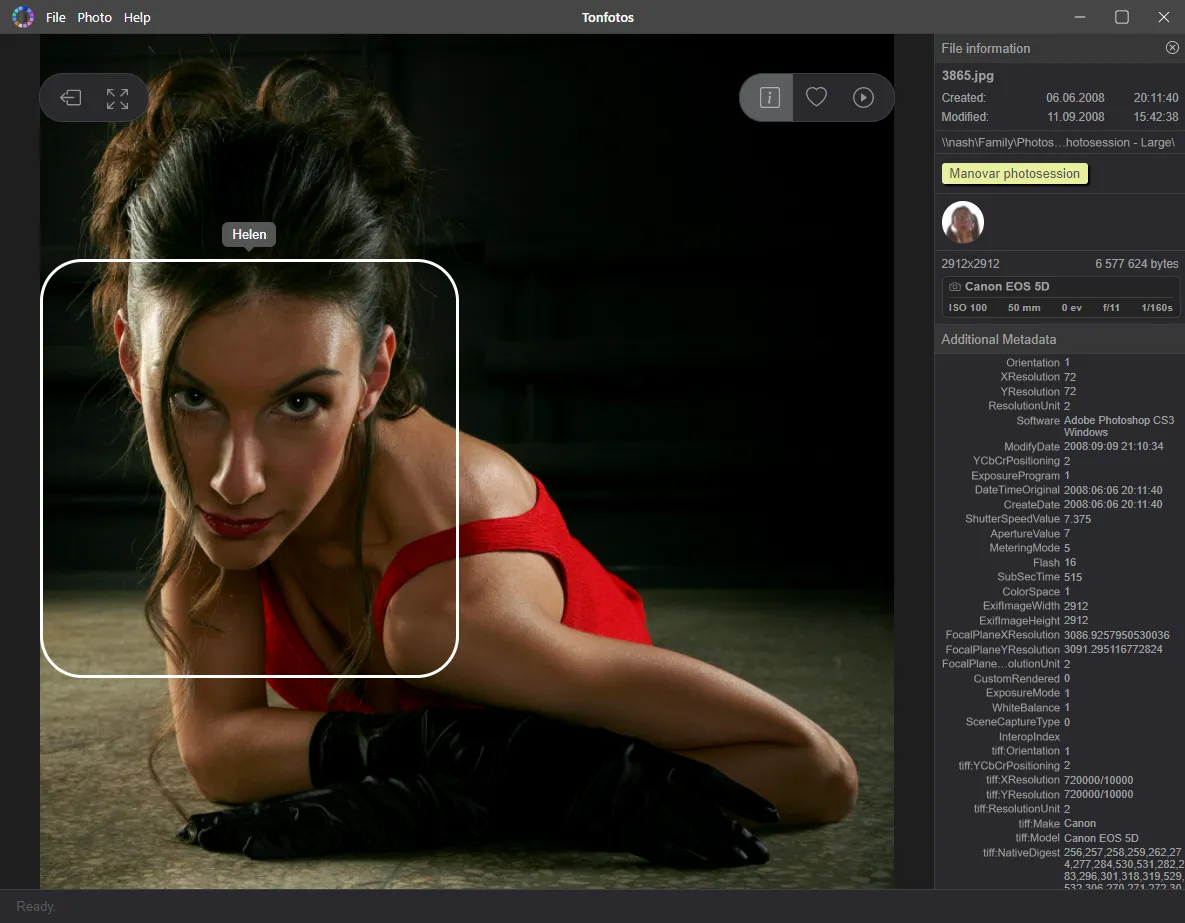 During indexing, the program checks for duplicates, finds faces in photos, even partially overlapped, marks them, collects other data. Due to the fact that all the "heavy lifting" is done once at the very beginning, further operations are very fast and responsive.
Advantages of the program
Modern and intuitive user interface.
Tonfotos found more faces than other reviewed programs.
Work with several sources at once (a computer disk/cloud/phone).
The free version of the program can be used indefinitely, and there will be minimal restrictions.In a free version you can find full functionality of the paid one, except for the limit on the number of recognized persons.
Disadvantages of the program
Initial indexing of a photo archive can take significant time, especially for larger archives. However, this is just a one-time inconvenience.
Picasa (Google)
No longer supported
Windows
Probably, Picasa is the veteran among photo cataloging programs with face recognition function. Unfortunately, this program is no longer supported and available for download. However, it is still quite popular and many users continue using it, even though some functions (like maps) do not work properly.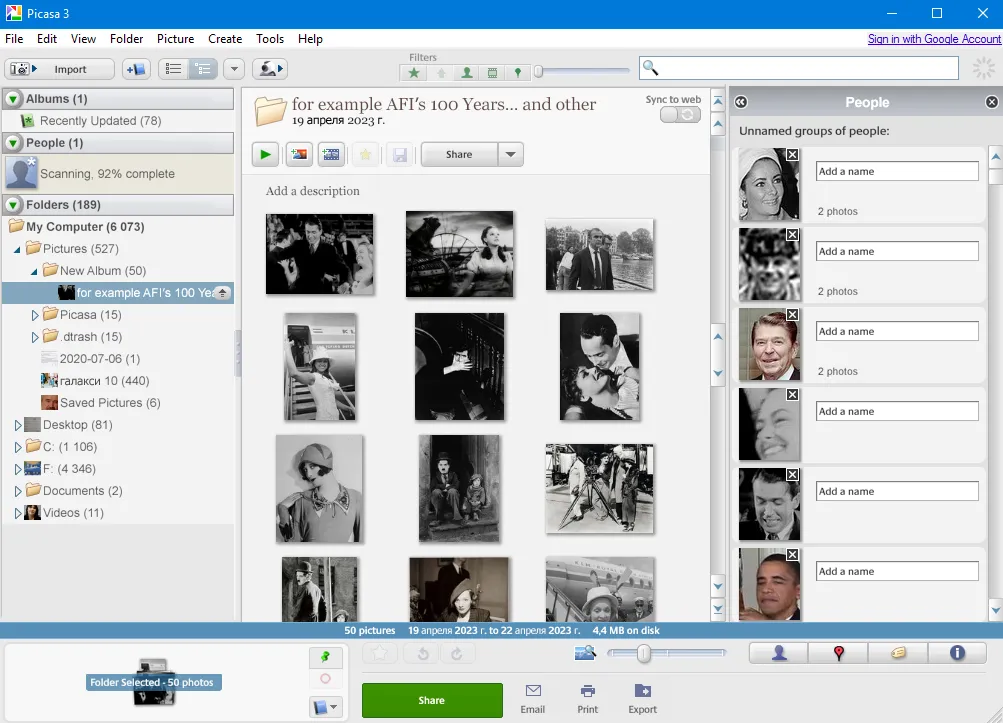 By modern standards, the accuracy of the recognition algorithms doesn't meet high expectations. The program offers two approaches to adding photos with people to archive:
If you open the "People" menu item, you will see a page with all those faces that the program recognized — in the "Unnamed people" sub-item. The user only has to enter the name of the person and mark (confirm) him/her in the photo.
"Manual" addition of a person to the database of people. In this case, a user confirms if there is a person in the image recognized by the program.
Advantages of the program
The program is free;
Slightly outdated, but intuitive interface.
Disadvantages of the program
The program is not updated, there is no official source for downloading. You need to search for the installation file on questionable sites, so there is some risk of infecting the computer.
There are freezes in work.
Some images of faces are stubbornly ignored by the program (half-face, processed or with poor quality), since it uses outdated recognition algorithms.
Maps do not work since Google disconnected the application from its servers.
ACDSee Photo Studio
Price: from $49.95 to $149.99
Platforms: Windows, Mac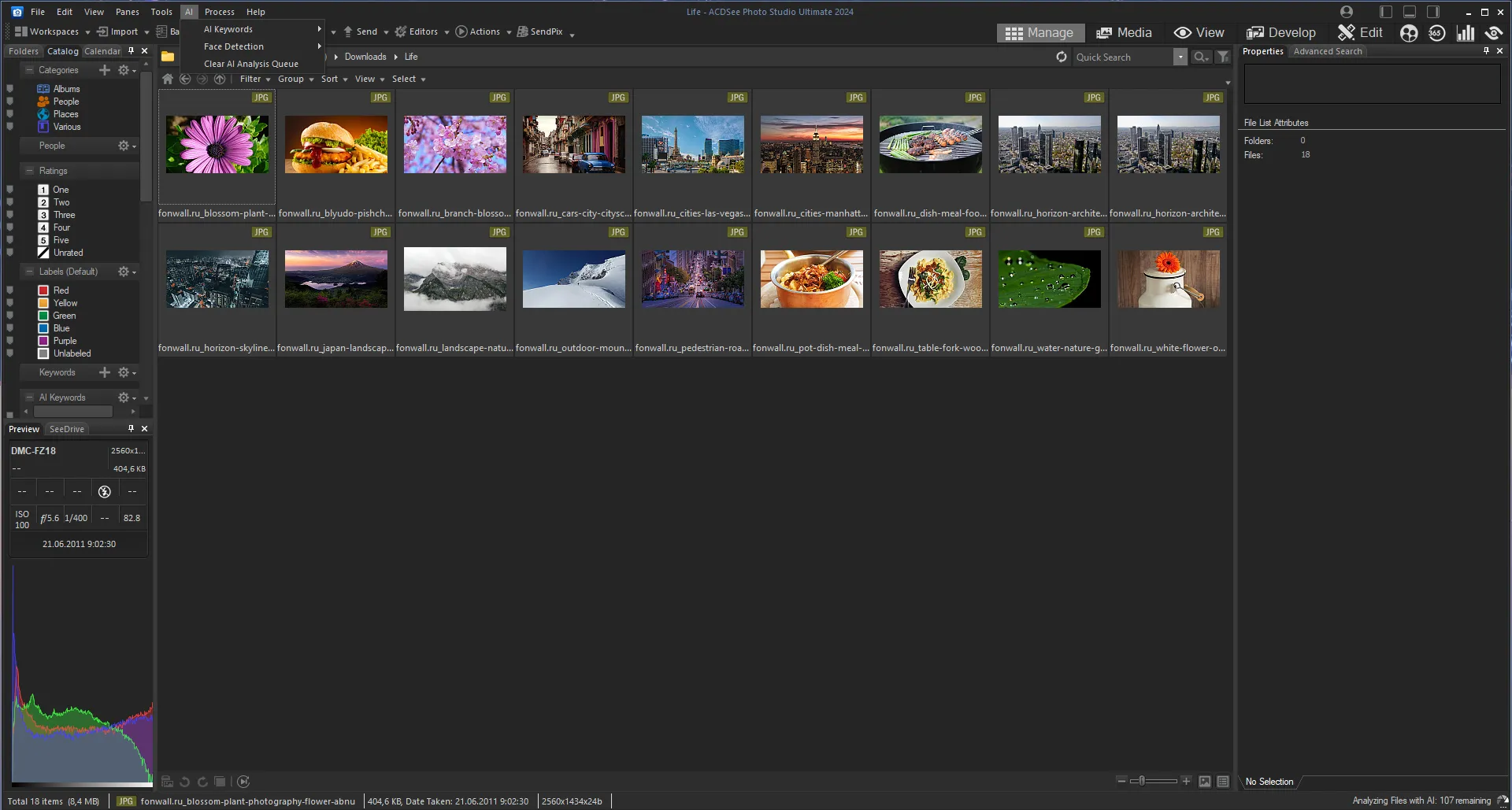 ACDSee Photo Studio is one of the professional photo editors and RAW organizers that combines the functions of Photoshop and Lightroom. Like all the programs in this article, ACDSee Photo Studio also includes a face recognition feature that automatically sorts photos based on detected faces. To use this feature, you need to install ACDSee Ultimate and import the necessary photos. Then you need to select the "Face Recognition" option and then the program will scan all the images uploaded and try to detect what you need. As a result, the photos will be automatically grouped into different folders according to the specified conditions. You can name each person for easier search later.
The face recognition function can be useful for organizing and classifying large collections of photos, but it is worth noting that the results in this program may not be perfect, especially in low-quality photos or if there are many people in one image.
Advantages of the program
High-quality grouping by folders
The ability to assign a name to certain persons in order for easier image search
Fast operation of the program
Simple and intuitive interface
15-day trial subscription
Disadvantages of the program
Problems with face recognition in photos of poor quality or if there are more than 5 people in the image
Small functionality related to face recognition.
You need either a full version of the program, or a specific product where this function will be located
High price
Adobe Lightroom Classic
Price: $9.99 per month or $119.88 per year
Platforms: Windows, Mac, iOS, Android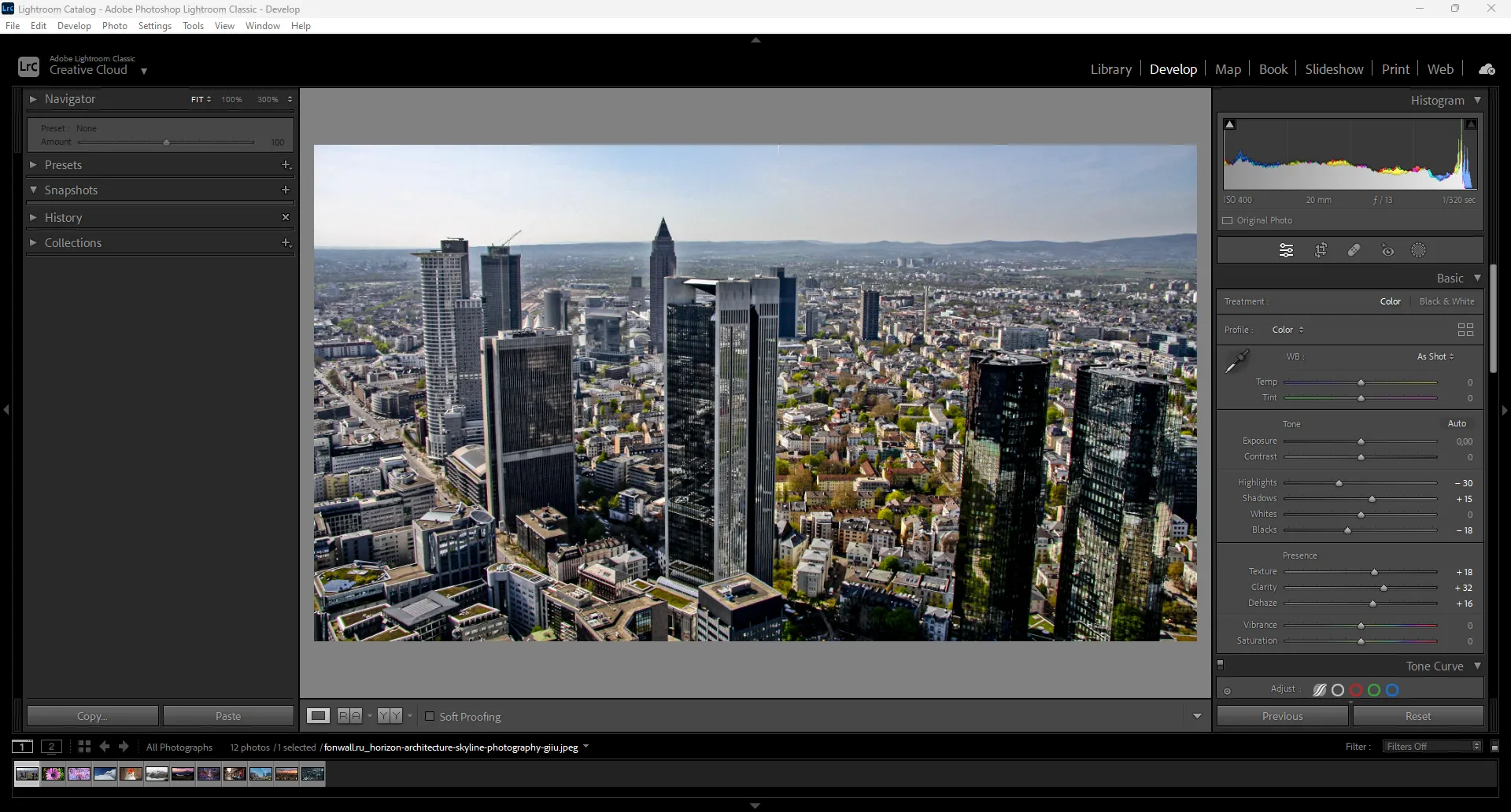 Adobe Lightroom Classic is one of the most popular image editors used by professional photographers. Naturally, there is also a face recognition function. Lightroom allows you to find and organize photos by people's faces, even throughout the catalog. You can choose either you want the program to search for certain people's faces or by some specific criteria, for example, name, gender, age. You can make certain labels to individual files or, for example, completely disable face recognition.
But, unfortunately, there are some flaws. Although the function is present in this program, it is not quite popular because of its long operation. The program freezes for a few minutes if there is a search among dozens of files. This greatly hinders productivity. However, the program is able to perform this task efficiently if there are a lot of people in the image.
Advantages of the program
High-quality work and search for the necessary content
Ability to analyze among a large number of photos
Nice additional features
There is a trial subscription where you can use the full set of the program
Disadvantages of the program
Low work speed
Frequent program freezes
The design of the Classic version has always been a bit outdated and not quite intuitive, unlike other Adobe programs
Daminion
A commercial application designed for companies.
Platforms: Windows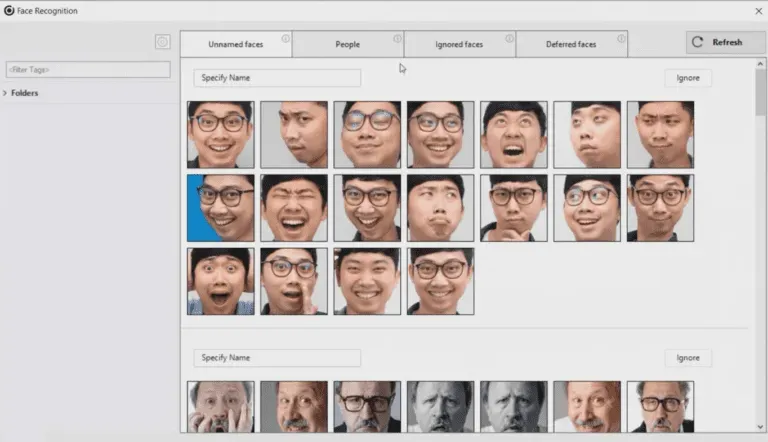 An unusual application in our list, because it's only a commercial program designed for various studios. Daminion works with more than 800 hundred companies and provides its services in two types - cloud or on-premises. It is not possible to name the price, because it depends on the number of required users, the required storage space and any additional services. What about the program itself?
It works efficiently, allows you to automatically analyze and group all the faces among the files that you add to the directory. It does it quickly and immediately shows where everything is stored. It is possible to give certain names to groups of people, as well as sort those that are needed using different criteria. You can ignore or, conversely, perform some actions with the necessary photos, check images, view file properties and set colors for quick and intuitive interaction with faces in the future. It is quite convenient and high-quality, but the design of the program leaves much to be desired, as well as the availability.
Advantages of the program
High-quality and fast operation of the program
Extensive number of additional functions
Ability to set criteria for the analysis of persons
Disadvantages of the program
Availability of the program. Cannot be used by a regular user
The design of the program looks outdated in many ways
Different cost of the program depending on the scale of your company
Google Photos
Price: monthly subscription cost depends on volume
Platforms: Android, Web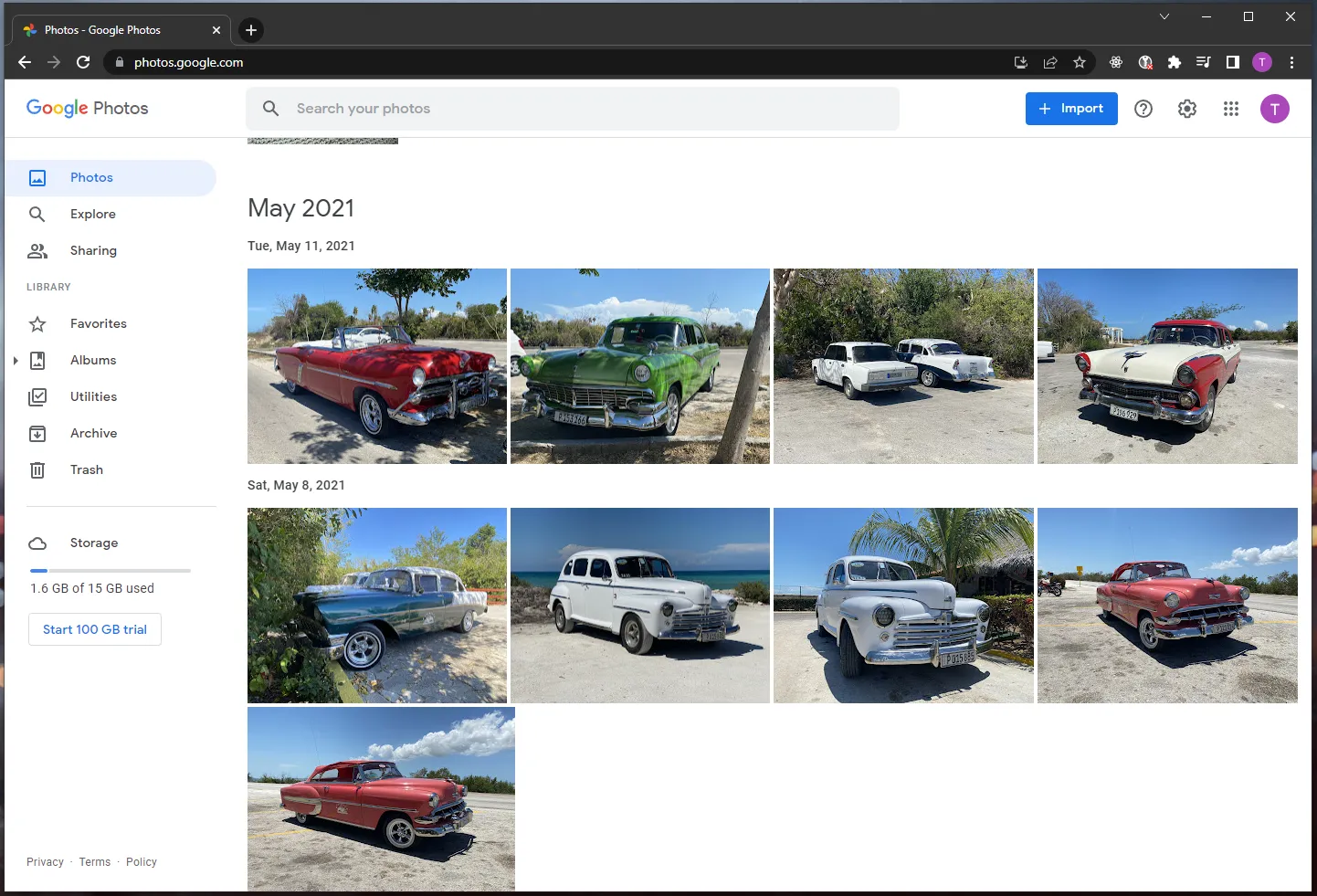 Google Photos is a free application from Google for storing and editing photos. It has many functions, including face recognition. When you upload photos to Google Photos, the app automatically recognizes faces in the photos and groups them by people. You can edit photos, add tags, comments and share them with other users.
Unlike competitors, Google Photos allows you to create albums from photos with recognized faces - you can select photos of a certain person or group of people and create an album that will be available only to you or your friends.
It is also worth noting that if Google Photos finds a certain person among your gallery, the program will prompt you to automatically sort this photo into a group where this person was recognized.
Advantages of the program
Fast, high-quality and automatic sorting of new and old photos into groups
Ability to name folders
Free use
Practical interface
Disadvantages of the program
Almost complete absence of additional functions
Doesn't always find the necessary faces among the crowd of people
Digikam
Open source
Linux, Windows, macOS
Search for faces in the program is "hidden" and it might be difficult for an inexperienced user to find it right away. To find this function go to the "People" tab. Expand the "People" list. In "Unknown" there are portraits of those people that the program found and did not group them to previously identified and typed into the database.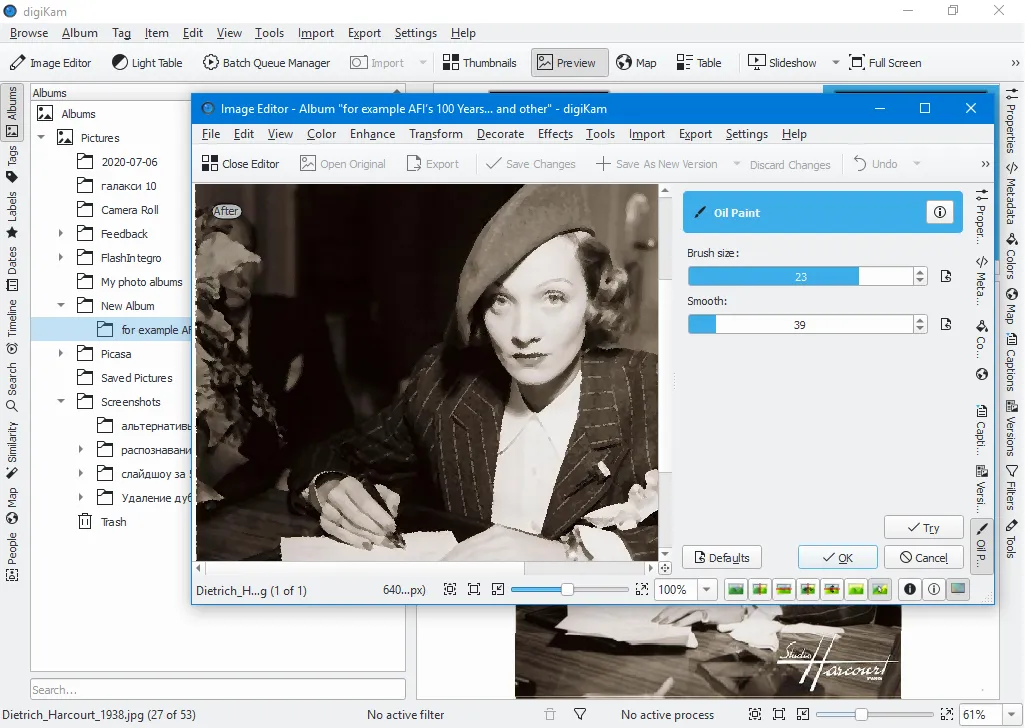 Initially opening the People tab, you may not understand at first the structure. There is a smiley face there and it is not clear that you need to click on it to open a list with faces recognized by the program. The location of the face search tools is also unsuccessful — the lower left corner, you pay attention to it last of all since its design does not catch the eye in any way.
The search goes through all the images in the specified directory at once, recognizing all the faces it can. And only then the user distributes the found images by name.
While testing the function, the program hung up. The speed of work is low. Compared to competitors, the program recognizes faces worse.
Advantages of the program
Free program. Open source code. It was originally written under Linux, but today it runs on most PCs.
You can publish photos to many different services.
Disadvantages of the program
Specific interface.
Poor face recognition quality.
You can't manually mark a person in a photo for sorting it by the system in the future.
The program was stuck during the scan.
CyberLink Photo Director
Price: $99
Platforms: Windows, Mac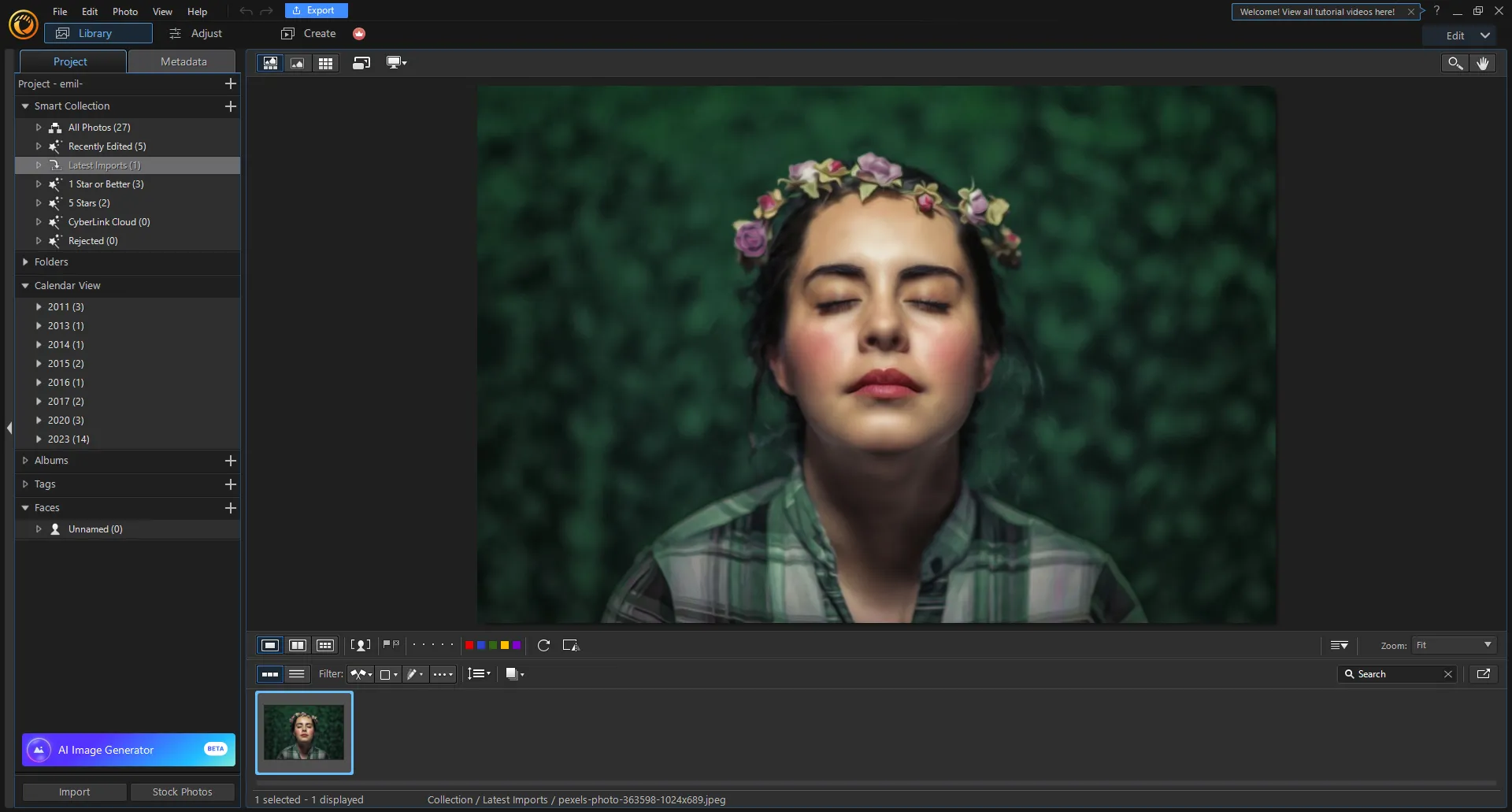 The Cyberlink program is known for its multimedia tools, such as PowerDirector and PhotoDirector, and it is mostly about video editing, however, Cyberlink PhotoDirector has facial recognition functions. They are quite interesting in this application, since they use artificial intelligence.
PhotoDirector is a photo processing program that offers a "Smart Fix" feature that allows you to automatically retouch and enhance photos. This feature includes facial recognition, but only to determine which parts of the face need to be improved.
The program is able to analyze the faces that are used in the process of work and improve them with the help of AI, so CyberLink is one of the leading companies in the field of facial recognition technology. It quickly finds familiar faces, and in addition to this, you can give them names so that the application automatically offers and then distributes the results of the work into folders.
Advantages of the program
High-quality work and analysis of people's faces using AI.
Ability to distribute photos into folders
There is a free version with limited functionality.
Disadvantages of the program
There is no possibility of extensive sorting of photos
Face analysis does not always work correctly
Sometimes the program does not recognize a face and asks to give another name to the same person.
Excire
Price: from £99
Platforms: Windows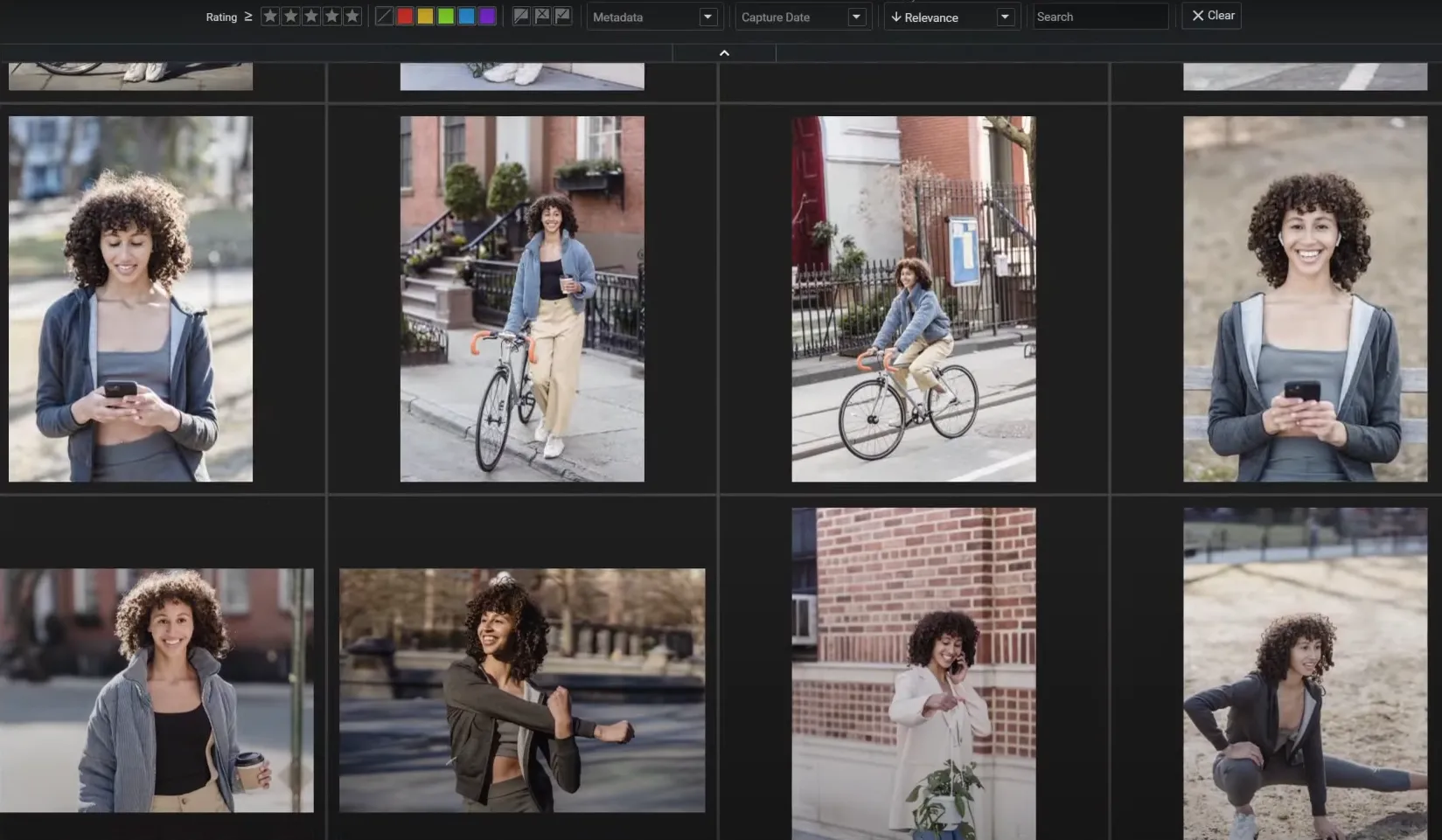 Another program designed to work with photos, as well as face recognition. The developers call it an almost perfect image organizer, because it includes five types of artificial intelligence at once, which can fully simplify the work with files.
In this program, with the help of X-PROMPT AI, you can get photos if you enter any necessary text. If you need to sort people's faces by folders or certain criteria,you should use X-FACE AI and X-TAGS AI, which will give these files various tags and keywords. To make the search for photos by faces better, the application uses X-ALIKE AI. Finally, X-TETICS AI will evaluate and report on the image.
Despite the use of many different kinds of artificial intelligence, the program isn't the best on our list, as it contains some problems. For example, due to the fact that five types of AI work at once at the same time, there are frequent crashes of the program or images simply disappear for no clear reason.
Probably, this is due to the fact that the program has switched to a new version and has not yet been fully brought to mind.
Advantages of the program
High-quality search and analysis of programs using modern technologies
There is a good sorting of photos and images by various criteria
Many additional and interesting features
Affordable price
Disadvantages of the program
Credit card details are required even for the trial version
Numerous reports from users about bugs in the program
Problems with the operation of a large volume of images
Mylio Photos
Price: $9.99/month
Platforms: Windows, Mac, iOS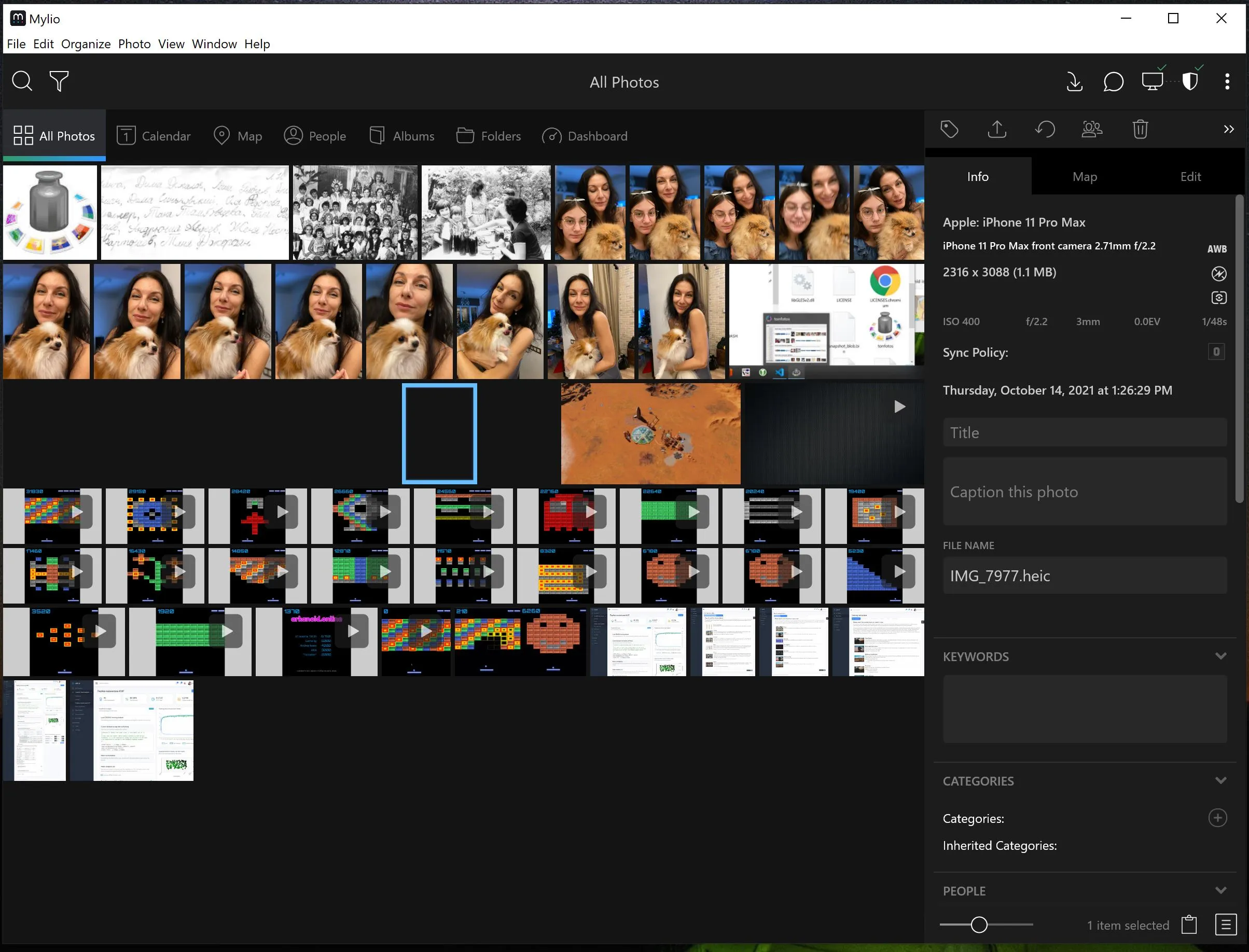 Mylio Photos is one of the most interesting photo organizers, which has a lot of functions, including face recognition. One of the main features is the import of your photos from a computer or mobile device, even from Facebook, Flickr and Lightroom, which not all similar applications can do.
If we talk about face recognition, there is a separate folder "People", where photos with the same people from the selected directory are automatically added. You can give a name to this folder, as well as enter certain keywords that will help you find a certain photo in the future. Then, you can quite simply share the folders with your friends and colleagues.
The interface here is simple and intuitive, but the functionality is not very large, especially if it is related to the recognition of human and animal faces.
The app is also available on mobile devices.
Advantages of the program
A good photo organizer with high-quality facial recognition work
Ability to import files from various services
Automatic creation of folders with photos of people
Nice and user-friendly interface
There is a free version
Disadvantages of the program
A small list of program features
Some photos are not being uploaded for no reason.
Apple Photo
Price: monthly subscription cost depend on volume
Platforms: iOS, Mac, Web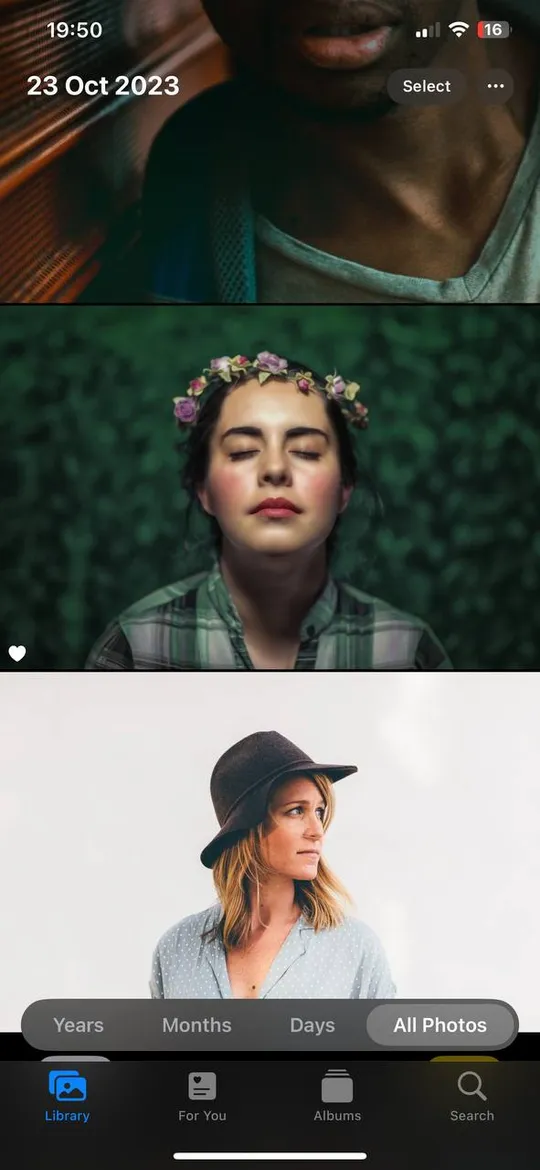 Users of Apple devices clearly noticed a strange folder in the gallery called "People", where they saw the faces of their friends, relatives, colleagues and themselves. In iOS, this is built right into the gallery. You can see that photos with the face of a certain person are in its own folder, and you can change its name. In addition, there is a search function in the Apple gallery. If you need to find a certain object in the desired photo, for example, a "Cat", then as a result, you will be given all the images where a cat could somehow be depicted. It also works with the people you specified, and you can also link this person's face with a contact book.
The function is very convenient, and free for use, however, not all photos appear in these folders.
Advantages of the program
Automatic sorting of photos by folders
The ability to link a person to a contact
Search for a specific object by keyword
Free for download with no additional applications needed.
Disadvantages of the program
Rather small functionality among competitors
Not all photos are added to folders
Works without your request.
Microsoft Photos
Price: Free for all Windows 10 & 11 owners
Platforms: Windows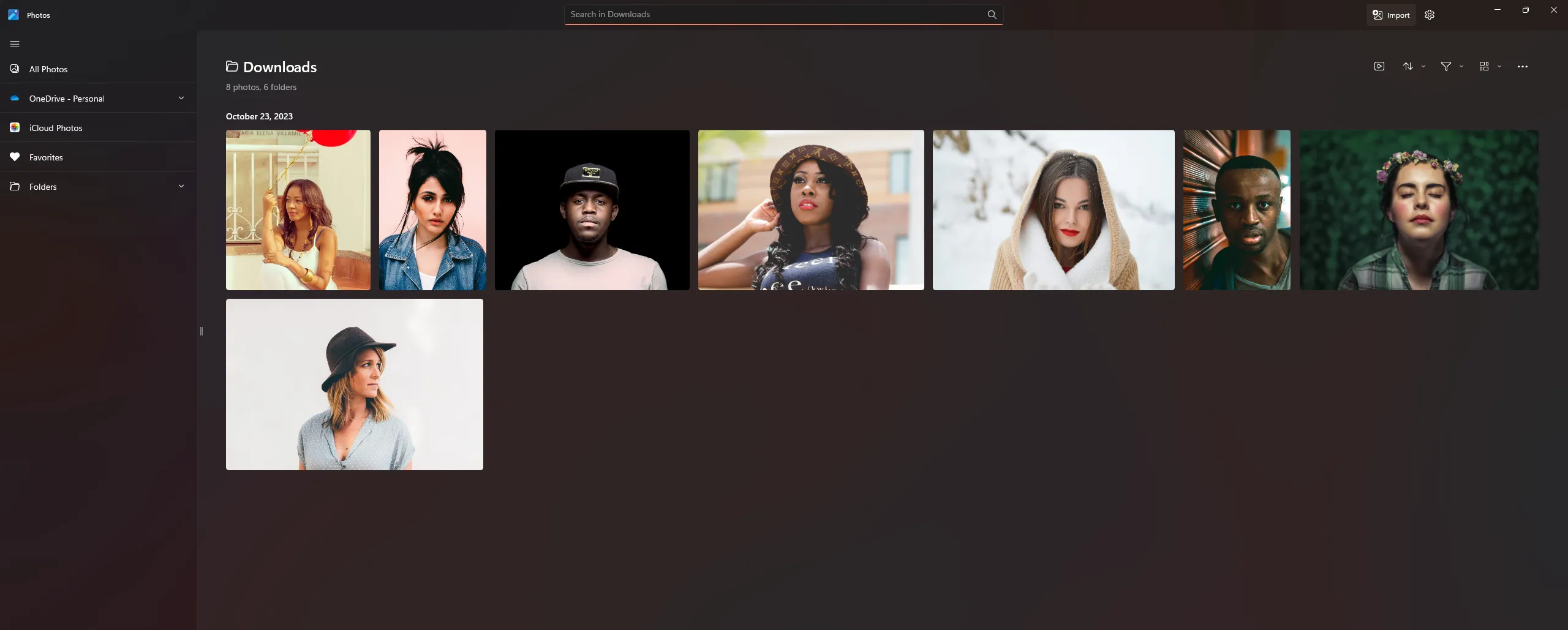 Another built-in program in the operational system is Microsoft Photos. As in other programs, images of faces are sorted automatically into various folders, but there are some additional features as well.
You can link groups of photos to contacts from the People app in Windows, which makes it easier to assign avatars. But the most unusual thing is that the program automatically sorts people not only by photo, but also by video. This means that if a person appears on some video, then it will get into the personal folder. However, these are all the features that Microsoft can offer.
Advantages of the program
Quick and efficient
Free
Communication with other applications in Windows
Automatic sorting of faces by photo and video
Disadvantages of the program
There are practically no additional functions at all
Photos of faces can be added to folders only after some time.
Conclusion
As we said at the very beginning, face recognition is a very useful and convenient function for everyday life. With its help you can not only save your time, but also simplify routine work, because almost all programs have the ability to sort images by location, date or various tags. But often the main thing in the photo is the image of a particular person. And if the task is to find all the images of this person in disparate folders, then it will be difficult to do it manually. The program will help out. And, based on the analysis of all programs, we clearly recommend the winner - Tonfotos, which includes all the most important things that a similar program should have.