ACDSee: free analogs and best alternatives in 2023
Published: June 15, 2023 Author: Anna Kondaurova
ADCSee is a professional tool, and naturally rather expensive. So, although it is good in solving the problem of storing, searching and editing the necessary photos, more and more often it is helpful to use free ADCSee analogs with easy and convenient functionality and pleasant interface.
Today it's easy to take 10 pictures of your favorite cat. Fractions of a second, and the fluffy star is captured. But with this simplicity another problem has come - the problem of storing, sorting, editing, and finding the right photos.
In the past this problem was typically solved by programs like ACDSee and Picasa. But the latter software has not been supported for more than a decade, while ACDSee is not necessary the best value for your money these days. Almost $60 for the home version Photo Studio Home 2023 and $100 for the professional Photo Studio Ultimate 2023, unless there is a sale. Fortunately, you can find alternatives - more than 150 different options, depending on the required functionality, as well as financial affordability.
Selection Criteria for an ACDSee alternative
Different people actually use ACDSee differently as it is packed with functionality. For an untrained beginner it can even seem overcomplicated because of that. To address that issue there are lessons on ACDSee website to help you get familiar with its interface concepts.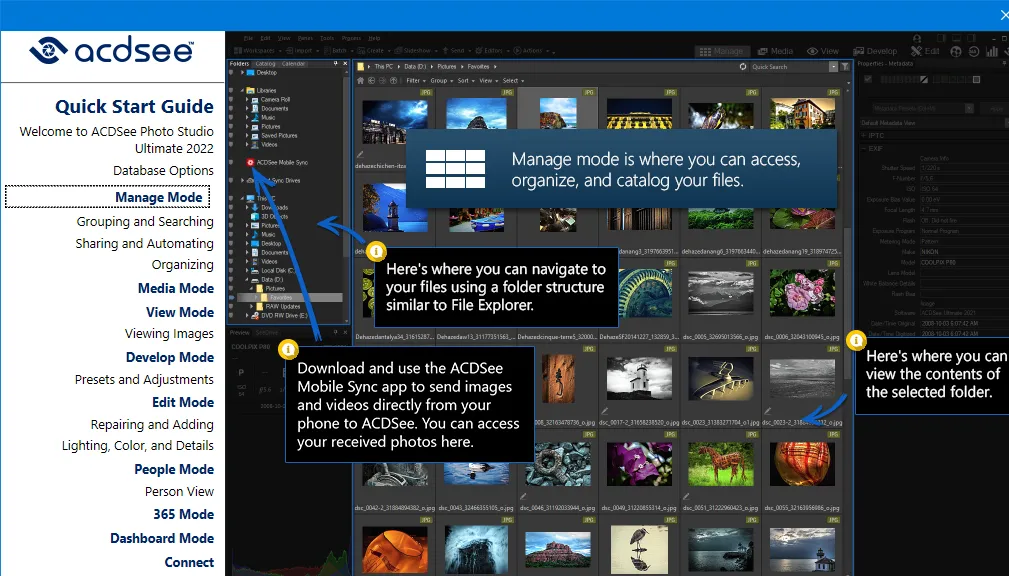 Nevertheless, if we sum up main advantages of the application in dealing with photo archives, the list may look like this:
Face detection.
Displaying photos on the map and timeline.
Cleaning (removing) duplicates.
Importing photos from your phone (mobile devices). In ACDSee this feature is possible by installing additional software on your mobile device.
Working with social networks - photos can be forwarded, for example, to Twitter.
Let's add to this list additional criteria also important when choosing an alternative:
A photo editor as an option to correct you picture here and now, right in the viewer. Of course, there are plenty of photo editors of all kinds, but if there is such functionality in the viewer, it will be a significant advantage.
Platform support - the ability to work in different operating systems - Windows, Linux, Mac OS, as well as accessibility for mobile devices iOS and Android
Usability - simplicity and nice design make working with programs much more enjoyable. ACDSee is not a model in this respect though. It is rather a tool for professionals. Most of the software features would not be necessary for an average user. Moreover, looking at all these buttons, menus and commands, a beginner can even "panic" and get confused with complicated functionality.
So, this is the list of criteria that will help us evaluate ACDSee alternatives.
TOP-8 free ACDSee analogs
JPEGView — when all you need is to view
Ranking: #8
Free (Open Source)
Windows only
JPEGView — it is probably the simplest photo viewer in terms of functionality. You can safely say about it: just photos and nothing extra.
You can barely classify this software as an ACDSee analog since it has a very limited functionality. If we are comparing the two programs, it's only for one function, which is the ability to view photos. And the program is not designed for more.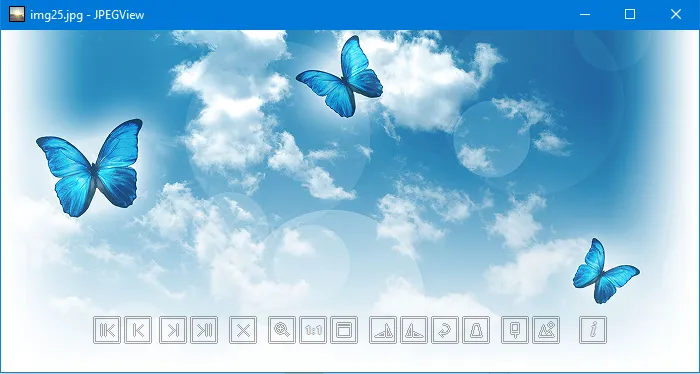 Meanwhile, the software works with the most popular graphical formats, and for decoding RAW-files it uses visualization software components from the Windows 10 (11) operating system proper.
Special features:
Very small in size - 1 MB;
Minimal kit for photo correction;
Minimalistic design. In fact, all the user sees is an image with simple toolbar of the program at the bottom, with the buttons not standing out that much against the background;

There are two modes of operation - "Windowed" and "Full Screen". In full-screen mode, the color correction functionality is available. To access it, you need to move the mouse cursor down the image
Works only in Microsoft Windows environment.
PhotoScape X — a simple photo editor and photo viewer
Ranking: #5-7
Free version is available
Windows and macOS
For the purposes of this review we considered the free version of this app - PhotoScape X. The creators of the software also have a more extensive fee-based professional version.
It was originally developed for macOS, which can be seen in its design. But it is quite well proven in Windows too. There is a photo viewer, a small photo editor, batch processing, collages, screen captures and more.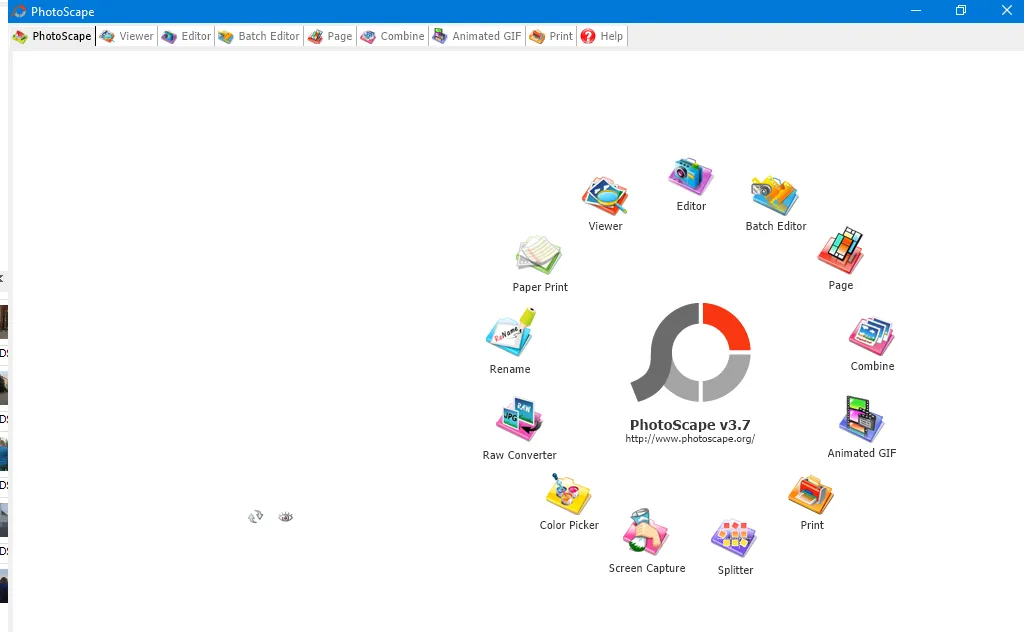 The program is quite popular and has been translated into over 20 languages.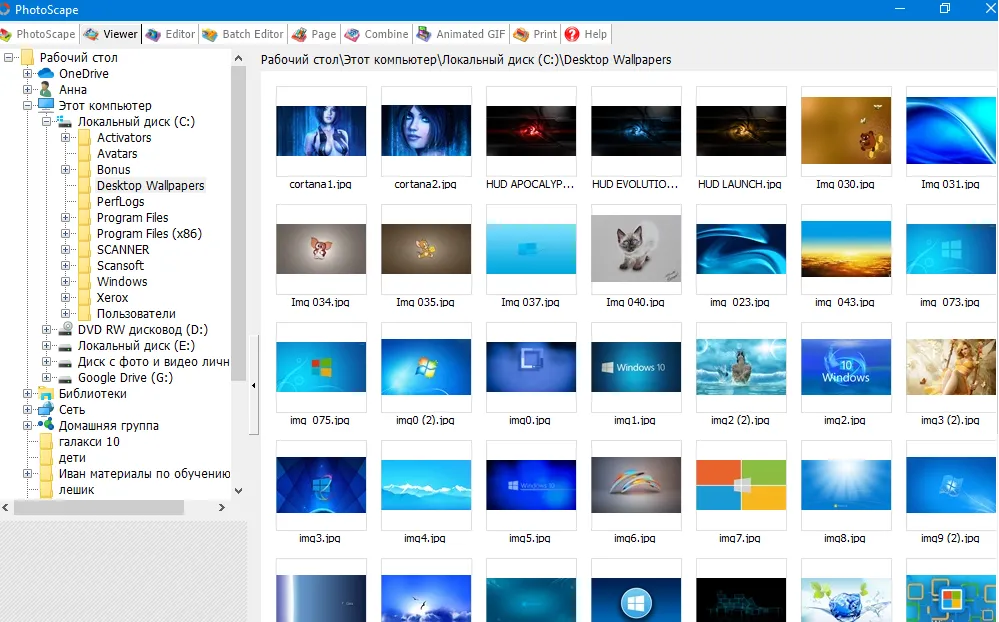 Special features:
Works with RAW files.
The program can be used for the simplest manipulations with filters, color correction, slightly tweaking the image. At the same time, you can undo the changes you have made with a few clicks of the mouse.
It does not have more "advanced" functions for face recognition, linking to a date or a place.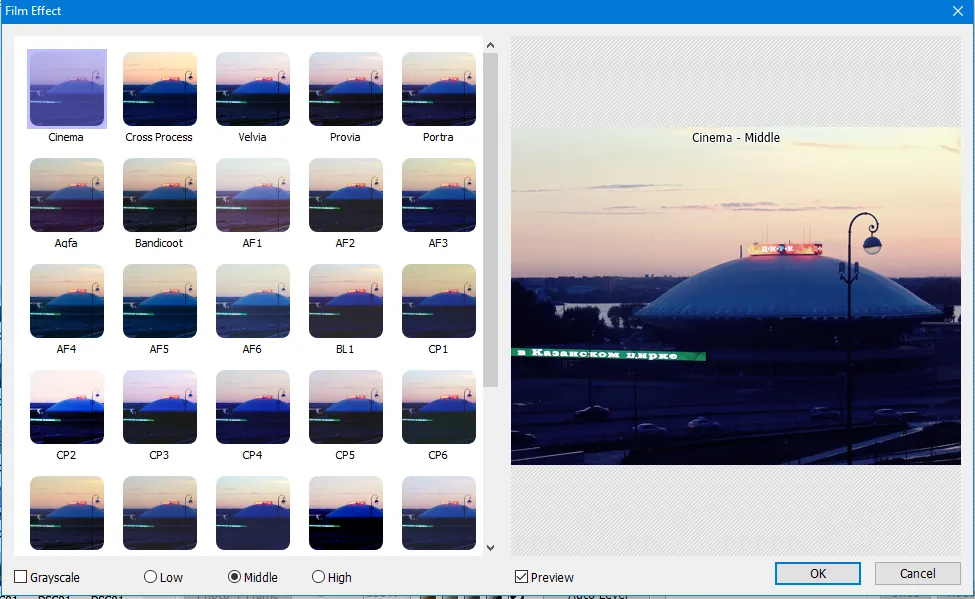 IrfanView — when you need an ACDSee analog for an old PC
Ranking: #5-7
Free for non-commercial use
Windows only
The utility named after Irfan Skijian is beloved by many for its simplicity and convenience, but not for its design and variety of functionality. For that matter, this software will run even on a weak PC.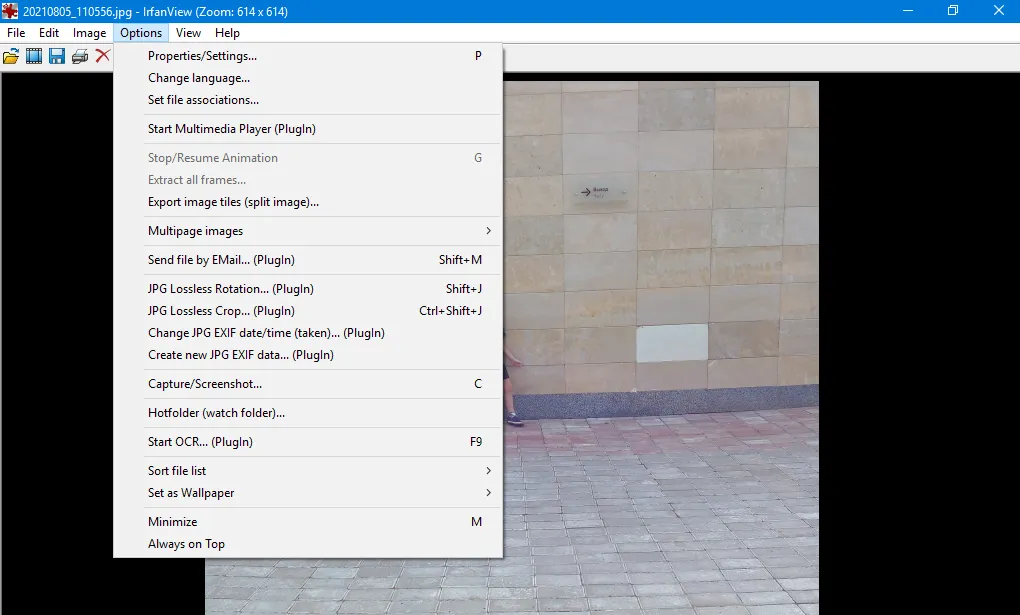 The software contains a small photo editor in which you can slightly modify the original picture. The program also allows you to find out data about the image, convert it into a web page, create a screenshot.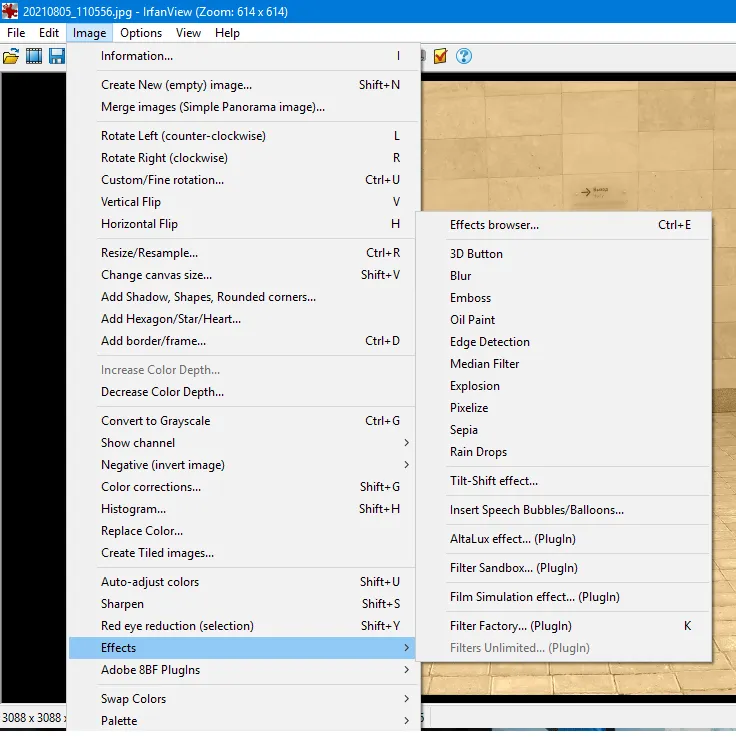 Special features:
Takes up little space. Has limited functionality.
Translated by enthusiasts into many languages.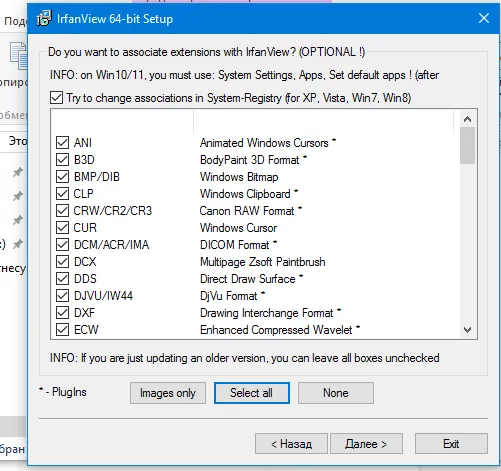 nomacs — easy and fast alternative to ADCSee
Ranking: #5-7
Free (Open Source)
Linux, Windows and macOS
nomacs — A cross-platform viewer and a simple (basic) image editor. It can work with almost all image formats and even with RAW and HEIC.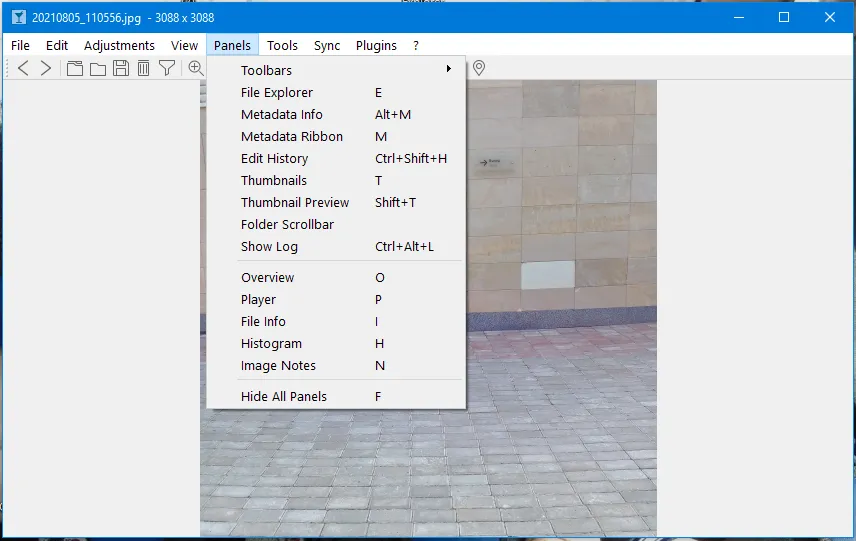 Among the features of the software there are search with filtering, batch processing mode, and semi-transparent widgets with additional information about the file. There are several viewing and navigation modes.
Special features:
Open Source. Available for Linux, Windows, Mac OS X.
Runs fast due to its "weight".
Works with 39 image file formats.
There is a link to Google maps. (Shows on the map the place shown in the photo).
FastStone — batch processing and more
Ranking: #4
Free for non-commercial use
Windows only
FastStone — with one of the friendliest, classic interfaces coming out of the 1990s. You can use it not only to remove the red-eye effect, but also to sort files into folders, create a business card or a photo slideshow, process a lot of photos at once (batch processing).
Among the alternatives to ADCSee, this software stands out because it allows you not only to edit a file, but also to convert it.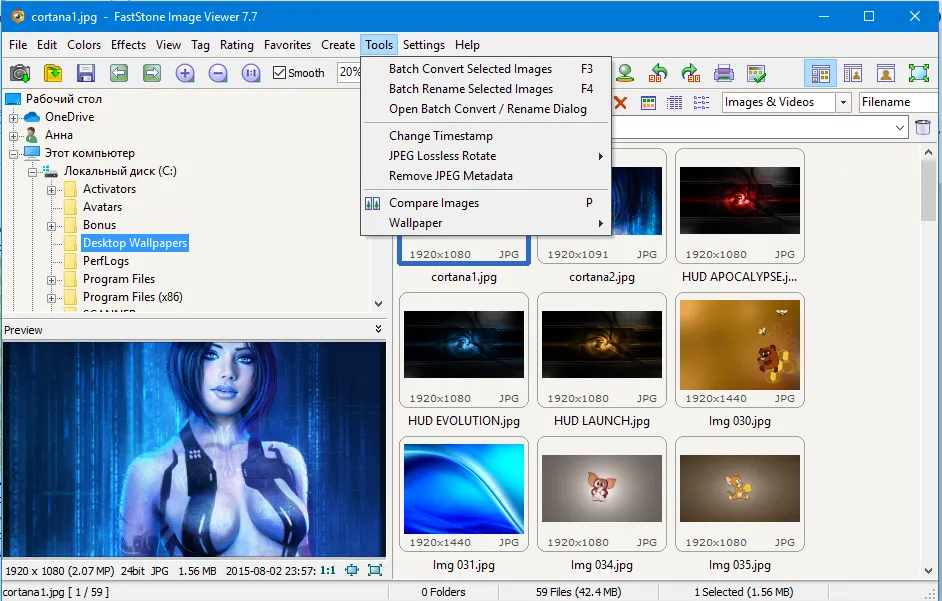 Special features:
You can view and change the extension (convert) photos in almost all formats.
Interaction with the printer and scanner, and e-mail is well organized.
It does not show EXIF - technical data about a particular file, or shooting parameters.
XnView — extensive functionality and convenience
Ranking: #3
Free for non-commertial use
Linux, Windows and macOS
XnView, like a number of other ACDsee analogs mentioned above, is presented in a classic interface. But at the same time, it has a convenient, albeit slightly overloaded, interface and a wide range of functions.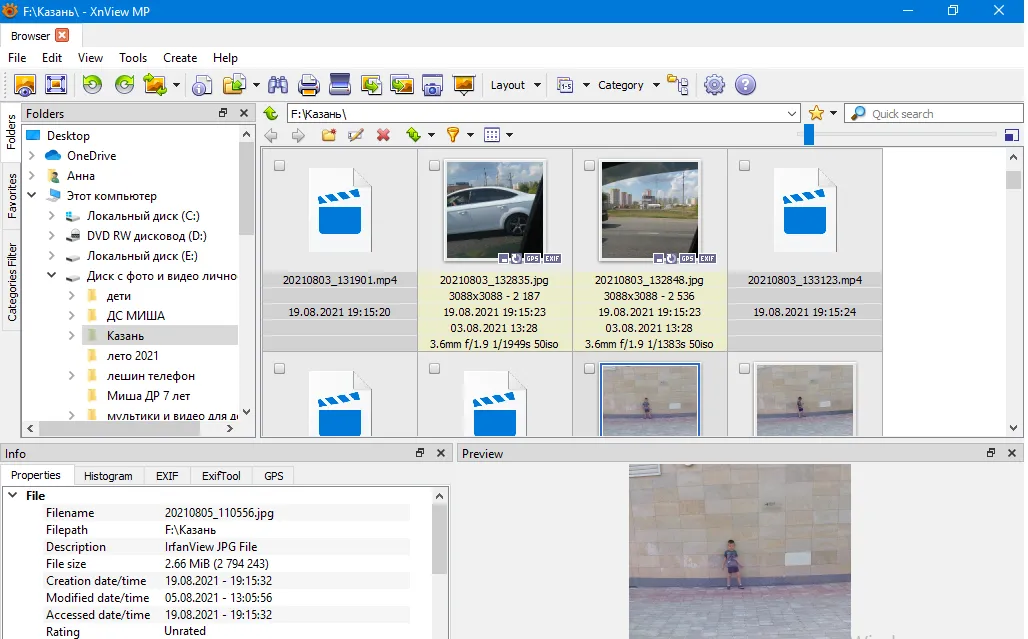 Here you can create albums, and sort photos by category by preassigning them, send the photo to print or watch the resulting image from the scanner. Also here you can slightly edit the photo and convert it to another format.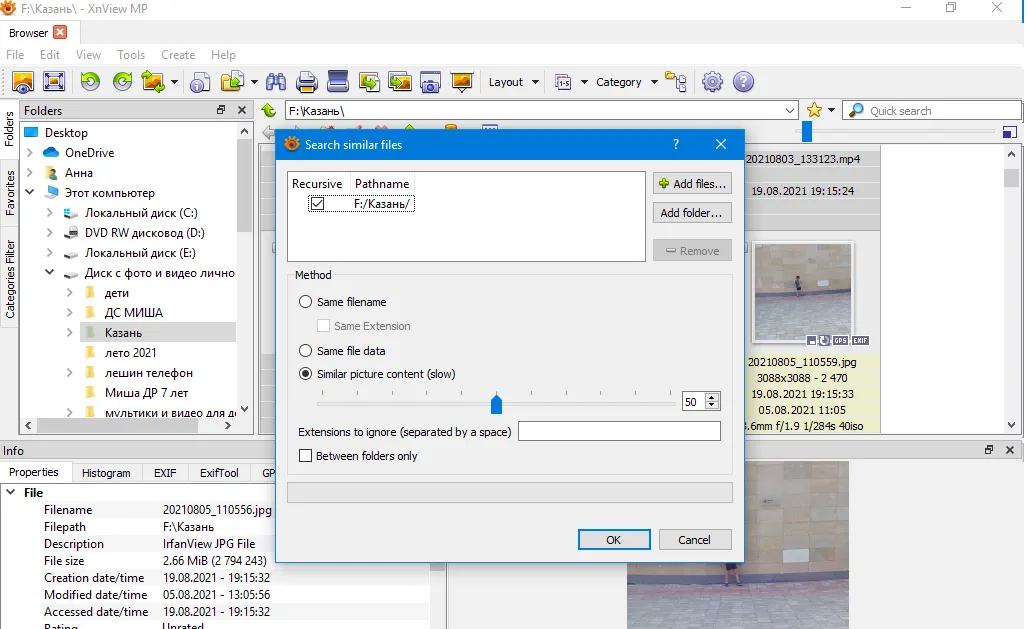 Special features
Multiformat. The list on the website of the software includes 500 different formats.
Cross-platform - Windows/MacOS/Linux/Android/IOS.
DigiKam — Creating a common space
Ranking: #2
Free (Open Source)
Linux, Windows and macOS
DigiKam — is a cross-platform application that was originally written for Linux, but was later adapted to Windows and MacOS as well. If you are ready to spend several hours on learning the application, you might master a wide range of its functionality.
The software will help if you need to bring a lot of photos into a cohesive system. It organizes, sorts them by keywords or tags, title, date or geo-location, and more.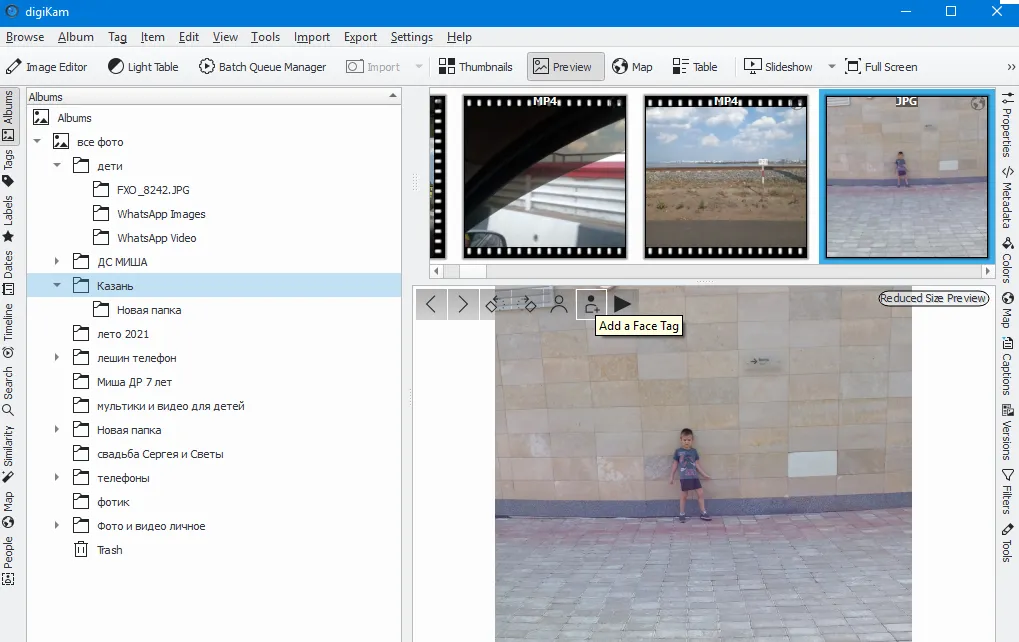 There is also a small photo editor that will help you improve the quality of your photos.
This software can well be ranked second among ACDSee analogs in terms of its functionality.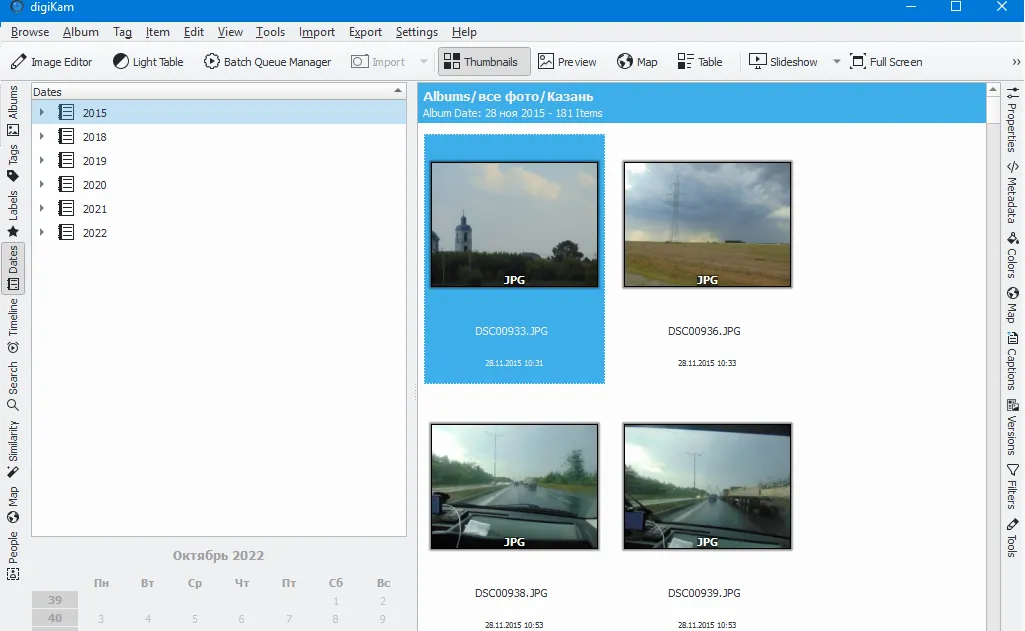 Special features:
There is a function of face recognition, and geo-referencing.
You can set up automatic import from cameras, scanners, mobile devices, USB memory sticks.
Suitable for working with a large volume of photos. Searching and deleting duplicates.
However, duplicates are often created by the software itself, as albums are created by copying files into a new folder.
Tonfotos —the best bet among ACDSee alternatives?
Ranking: #1
Fre version is available
Linux, Windows and macOS
A young but very promising application Tonfotos appeared at the end of 2021. The software, however, is developing very quickly, has already acquired all the most necessary functions, and may well become an adequate analog to ACDSee and Picasa.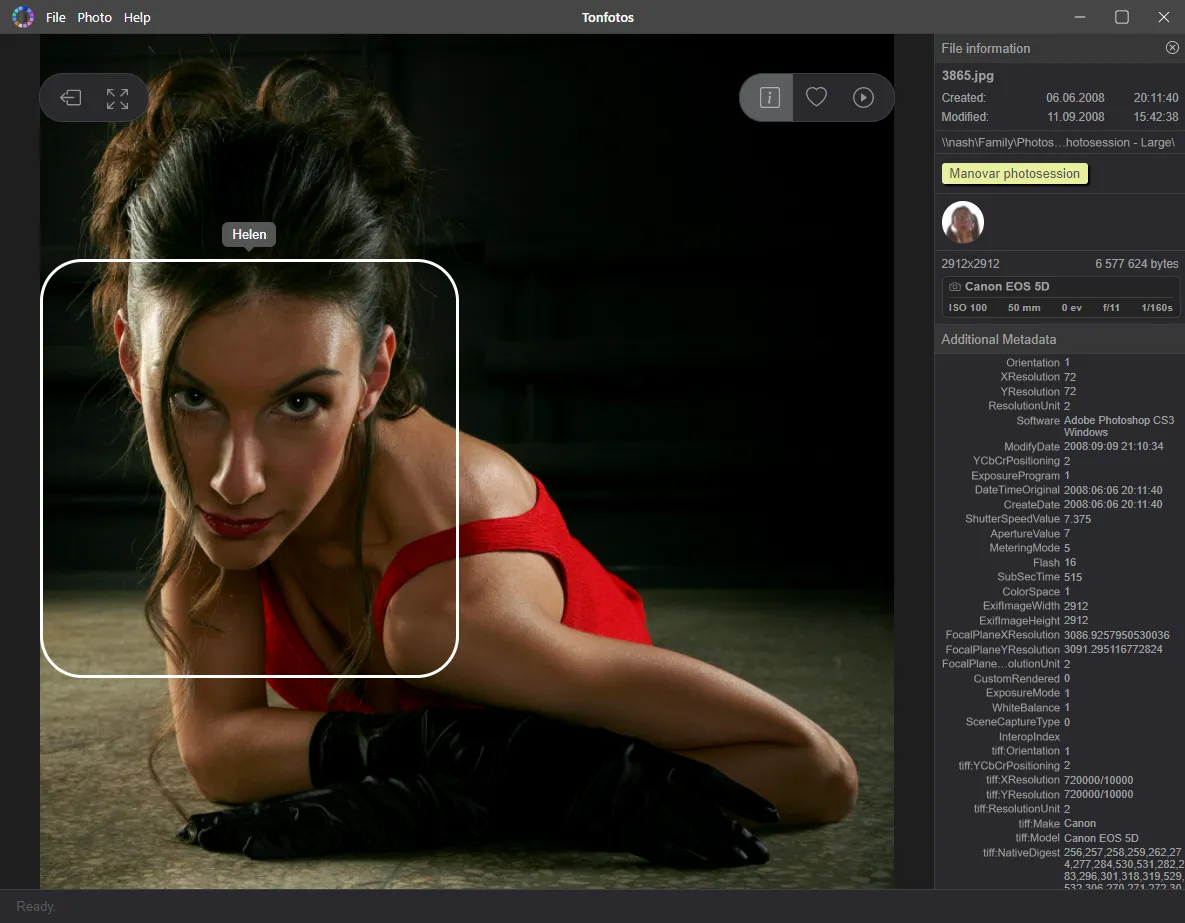 It has an intuitive, up-to-date and light-weight design. It can index images from several photo storages at once - both on the PC itself and on a network resource. Albums are created regardless of file location.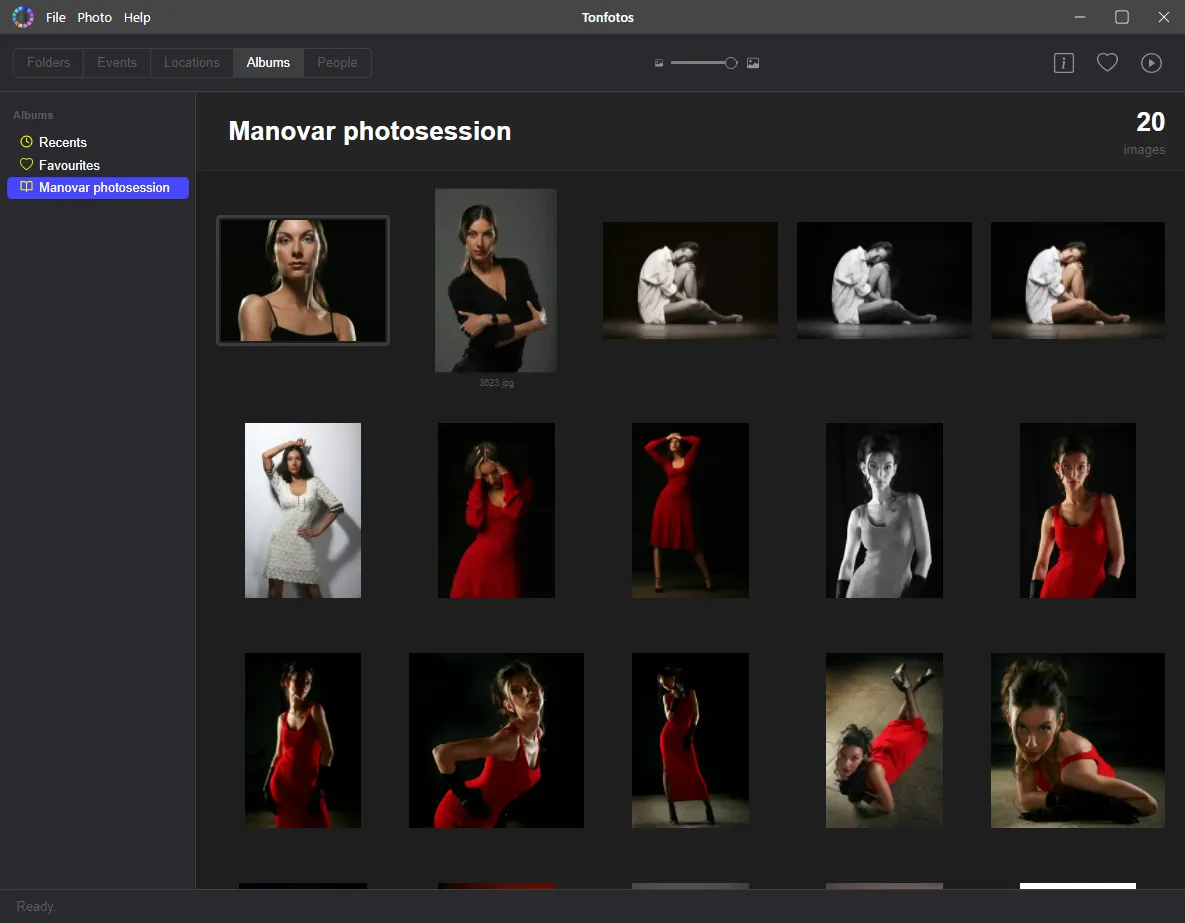 You can easily import files from mobile devices. It does not require you to download special applications on your phone, tablet (or other third-party devices).
If you set up a connection with Telegram, all your friends' photos will go to your user albums.
It has a face recognition feature.
Supports search by shooting location on the map.
This is the program ranked first among the top 8 alternatives to ACDSee.
Conclusion
Selecting an analog for ACDSee can be a difficult task, but it is feasible. Of course, you can hardly replace it in full do to it wide functionality, but you can replace it at least by 70%. ACDSee is a professional tool for processing a huge number of images that need to be manipulated and edited in various ways, up to and including completely changing the original image. Even based on the description above, it is clear that it is quite a complex and feature-rich program that essentially replaces several more task-specific applications.
When searching for alternatives to ACDSee, the most important thing is to understand the purpose of the program you're going to use it for:
It is worth noting that Tonfotos stands out from its competitors presented in this review by its more up-to-date and clear design, as well as more elaborate features of face recognition, and the display on the timeline and map.
Another important criterion to look for analogs to ACDSee is its usability, or to put it simply, the "friendliness" of the interface. Even the very software mentioned is a little slack in this regard. And while this parameter is subjective in many ways, it is still influenced by objective factors:
Function overhaul - providing more options not necessary makes your task easier
Poor architecture of solutions - you seem to know that this software should have such a function, but where is it hidden? You can't find it without the extra help of a search engine or a tutorial on the website, like in digiKam;
Each software program is developed to solve its own specific tasks, each has its own functionality and ideology. For example, Tonfotos, which is the closest to ACDSee in terms of functionality, is not a clone of ACDSee. It is an absolutely independent tool that will help find "the right" image buried in hundreds of folders and enjoy the rush of memories. It also offers the ability to not only tag family and friends in photos, but also indicate their kinship and relationship, which none of the competitors have. Download the free version of Tonfotos here.