Find Duplicate Photos: clean up your archive
Published: July 16, 2022 Author: Svetlana Smurova
What is the easiest way to free up space on your hard drive? Remove duplicate photos and videos! These are exact copies of files located in other folders or on other drives and are no different from the originals. Getting rid of such files is a great relief: how much usable space will appear on the disk! And do not be tormented by doubts about what can be removed and what else will come in handy.
When creating our photo archive, we try to be accurate. Nevertheless, many of us still accumulate a decent number of duplicates. We do not even notice it happening.
Sometimes friends and relatives send us photos, and these may contain images we already have.
From time to time, we accidentally re-import files from our phone to our computer's hard drive.
Plus, we can specially put images in a separate folder for printing a photo book or creating a video, and leave them there like that.
As a result, the computer folders are full of images, some of which are copies of the same photographs. All this takes up a significant part of the disk - it can be tens or even hundreds of gigabytes. And at some point, we realize it is time to do something about it: soon there will be nowhere to store new files, as the space is running out.
But searching for and deleting identical photos is a long and dreary process. Therefore, a new option for the Tonfotos program is very useful - automatic search and removal of duplicate photos. It will not only help save computer resources but also save you time and effort from searching for identical photos manually.
How does the function of finding and removing duplicate images work?
In the main menu of Tonfotos, select "File", in the drop-down list, click on "Delete Duplicates".
The opened dialog will show statistics on duplicates in your photo archive. You will see the folders where they are located, what files they look like, how many there are, and how much space they occupy.
Some files can be deleted without viewing - in this case, the window will have a "Delete All" button. The algorithm filters out identical photos that are located in different locations, for example, in the folder where you store the archive, and in "Downloads". In such a situation, you can delete photos without going to the "Duplicates" section to see them with your own eyes. Just choose in which folder you want them to remain, and in the corresponding line, click "Delete All"
All options can be quickly viewed by clicking the "To Album" button. The program will transfer you to the virtual folder "Duplicates". There you will see a couple of photos and videos, one of which you can get rid of. If there are more takes than a pair, they will be displayed in triplets/fours and so on.
The program calculates in advance and shows you how much space will be freed up if duplicates are deleted. This is shown in the table. Very useful!
How does the program remove duplicate photos?
It is important to understand that our program considers files to be duplicates, if their contents are completely identical. They may have a different name or date, but even a reduced copy is not considered a duplicate by Tonfotos. This is a different file to the program.
Perhaps in some situations, this functionality will not be enough. If, for example, you go to look not only for full duplicates but also simply similar photos or their reduced, cropped, or somehow edited copies. The current version of Tonfotos does not do this. Such a task is much more laborious, and it requires looking at numerous photographs to make sure that they are indeed duplicates.
Today, Tonfotos allows you to avoid manual work as much as possible. But even deleting exceptionally complete images can easily free up a few gigabytes of extra space on your disk.
By the way, there can be more than one duplicate. If there are three or more identical photos, then the full list of repetitions and their locations can be found in "File Information".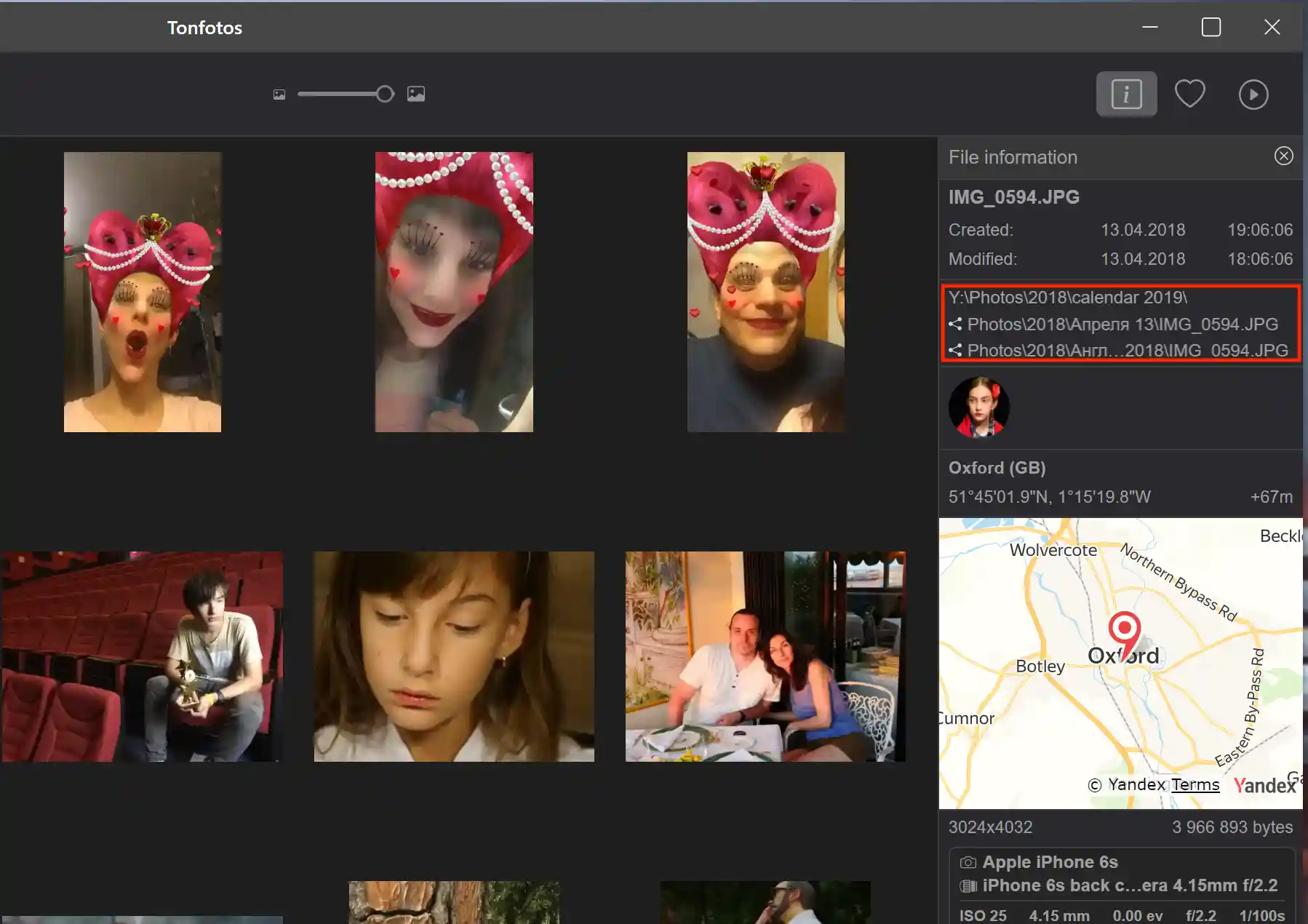 The Tonfotos algorithm analyzes the relative position of the photos based on the information you set through the "Archive location" menu. How does it distribute the duplicates it finds?
First: duplicates in different sources
If files with the same content are located in different sources, then with a probability of 99%, these will be duplicates that will not be useful to you. So, the file on the network drive where the archive is stored, and the identical file in the "Downloads" folder on the hard drive of the computer, are the same. We just copied it from "Downloads", but did not delete it.
Second: duplicates in one folder
Another option for finding duplicates is files that are in several copies in the same source and in the same folder. This also happens, for example, if you changed the name of the file and saved both versions. One of them can be deleted without hesitation.
Third: duplicates in the same source, but in different folders
And sometimes we sort files on a network source into different folders, duplicating them. Let us say you put vacation photos in the "Croatia_2019" folder and saved some of them in another - "For printing a family calendar for NY2020". Thus, these directories contain the same images. You have already collected, printed, and presented the calendar to your grandparents. And duplicate photos gather dust in their own separate folder.
Buttons "Delete all" and "To album" - when, to whom, why?
For some duplicates, the program algorithm offers deletion without unnecessary gestures with the button "Delete All". Next to it there will be a button "To album"; if you wish, you can see what you are deleting and from where. In other situations, there is no "Delete All" (without looking) option. There is only the option to view and the button "To album". Why?
The "Delete all" button will be enabled if the same photo is located on several resources at the same time: a network and local hard drive, for example. The algorithm will offer to delete files without going into the album. But the choice in which folder to leave them is up to you. To do this, click "Delete all" in the corresponding line of the dialog table:
One indicates the photo from resource A has a duplicate on resource B, from where it can be deleted.

In the second - that the same photo is on B and can be deleted on A.
The "Delete All" and "To Album" buttons will be both there. You just have to make a choice - where to delete the photos, and where to leave them.
So, if the files are in the network folder and in the "Downloads" folder, then there will be 2 lines that end with "Delete all" buttons: in one - with a suggestion to delete from the network, and the other with a suggestion to delete from the "Downloads" folder. And this choice must be made by the user.
However, you cannot delete the entire archive by mistake. The program will not allow this. By removing duplicates from one source, you cannot click "Delete All" on the second line. After the program has cleared the folder at your command, the information in the table is updated. The second line will disappear. After all, the photos of the folder that is indicated there have ceased to be duplicates.
The second case when the program will prompt you to "Delete all" is when it finds identical photos on the same resource and in the same folder. Then the program is able to delete and even choose which of the photos to keep. Of course, it happens that the algorithm gets rid of the file with the beautiful name "Marriage_certificate" instead of "IMG_20200309_134007.jpg". But the file itself will definitely not be lost. In addition, you always have the opportunity to go to the album and Visually choose the one you will not be sorry to delete.
But the situation is rather typical when copied files with the names "IMG_20200309_134007-copy.jpg", "IMG_20200309_134007-copy_1.jpg" and so on are stored in the same folder. And you can quickly and easily get rid of them with one button.
The program will not offer "Delete all" by pressing the corresponding button if there are frames identical in content in different folders inside the network drive. A dialog box will send you to look at them by going to the virtual album (button "To album") and check whether you need to save all these files or some can be safely removed and free up some additional drive space.
Quick and easy deletion of unnecessary files
Searching for identical photos is a useful option that greatly simplifies the work with the photo archive. The functionality of Tonfotos helps to simply and clearly get rid of the garbage that eats up the precious space of your disk. Try to take advantage of the new feature of the program, free up space, and add new cool photos to the archive.